Indian Creek is a tiny park just south of Philo and about three miles from Hendy Woods. It features a redwood grove that appears to be mostly old-growth, except for a section in the middle (around the Nature Trail) that's been logged.
Although it has some pretty good-sized trees, the redwood grove isn't nearly as attractive as the nearby Big Hendy grove. It looks a little more like Little Hendy, with a somewhat dry, dusty look and a dense understory. The biggest redwoods are right along the river where the parking lot and campsites are; otherwise, the redwoods are pretty small.
Trails

---
There are two short trails. The Upper Trail or Liam's Way climbs a hillside, leaving the redwood grove and then descending back into it. A short side trail descends to a tiny rocky beach next to Indian Creek, in the bottom of a narrow canyon.
The Indian Creek Nature Trail loops around a logged area at the base of the hillside, starting near two huge redwood stumps.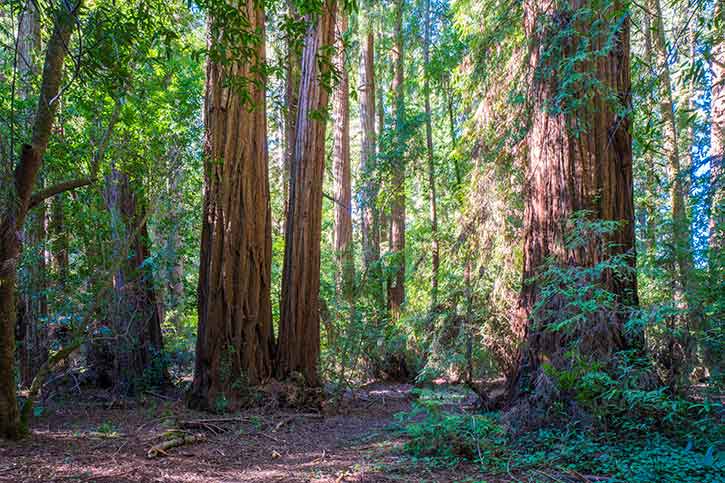 Campground

---
The park has a walk-in campground under some good-sized old-growth redwoods on the banks of the Navarro River. Compared to nearby Hendy Woods, Indian Creek has bigger redwoods and is less expensive, but it's not as attractive or well-cared for.
The campground is also right next to Highway 128, so it gets some traffic noise.
You can't park right next to your campsite; you have to park in the lot and walk between 40 and 250 yards to your campsite.
The campground is supposed to have a volunteer host, but the position is not always filled. If there's no host, the campground may be only infrequently cleaned.
Someone in one of the nearby houses has chickens so the sounds of chickens clucking and a rooster crowing can be heard throughout the day.
Each site has a picnic table and a grill or fire ring. There's a new bathroom building but no showers. The campground doesn't take reservations; it's first-come, first-served, and it usually fills up on summer weekends.