★
The Addie Johnson Trail
---
Length 2.5 mi · Climbing 580 ft
The little-used Addie Johnson Trail starts near the Big Tree Area in Upper Bull Creek Flats. The trail quickly leaves the impressive big-tree lowlands and ascends through bright redwood uplands, then leaves the redwoods altogether just before reaching a nineteenth-century gravesite. The redwoods along this trail are small but, except for a few stumps, mostly appear to be old growth. Although the scenery isn't anything special, the hike helps to put the immense redwoods that grow along Bull Creek in context and provides a better appreciation of how special the lowland redwood groves really are.
Start from the Big Trees Area parking lot in Upper Bull Creek Flats. Take the access road back to Mattole Road, the turn left and walk up the road a few yards to a pullout on your right (optionally, you can park in the pullout to save about a quarter mile of walking). The trail starts here. Walk up the trail a few yards to a 4-way trail intersection. The Addie Johnson Trail is the faint trail, straight ahead, that climbs gently.
As the trail climbs, the impressive old-growth redwoods rapidly begin to get smaller. Within a few hundred yards the trail rounds a corner and enters a small tributary valley, and the forest changes to a redwood upland containing small redwoods amid a dense understory of huckleberry shrupbs and tanoak. A few stumps and some areas of very small trees indicate that the ravine has been logged, but the brightness of the forest and the presence of some fine-looking, decent-sized redwoods to your right suggest that at least some of the ravine is old-growth forest. Although it's more mundane-looking than the lowlands, it's still a lush, attractive forest.
The redwoods get progressively smaller and the environment gets dryer-looking as the trail climbs. Near the top, the trail crosses over a small ridge, the woods abruptly change from redwood to oak, and there's an obscured view over the Bull Creek valley; unfortunately, you really can't see much. The trail then runs along the edge of the woods with an open prairie off to the left. Invasive French broom sometimes clogs this part of the trail. The trail ends at the gravesite, which has been renovated with a new fence and marker. Past the grave, an old roadbed continues to ascend through the woods, but it's no longer passable.
---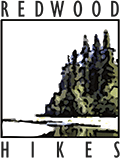 © 2012, 2015, 2020 David Baselt