The California Federation of Women's Clubs Grove
---
Length 0.9 mi · Climbing 0 ft
Background

---
This fine grove is on the Avenue of the Giants between two of Humboldt Redwoods' most spectacular groves — the Rockefeller Grove, which is right across the Eel River, and the Founders' Grove, which starts just a quarter-mile up the Avenue. Although the Federation Grove certainly has its share of big trees, it's overshadowed by these nearby and even more impressive groves. And so, despite its easily-accessible location, most visitors are here not to see the trees but to swim in the Eel River.
The grove is on an alluvial flat, but a gentle slope confines the big redwoods to the lowest part of the flat, a relatively narrow strip along its edge. The access road to the grove's parking lot runs right through the best redwoods. There aren't any really worthwhile trails in the grove, although the Big Cut Trail does run through the big redwoods for a few yards. However, in winter the road is closed and makes a nice short walk; few people visit the grove at this time of year.
The Big Cut Trail connects the grove to the Founders' Grove to the north, but it runs along a cut-away hillside above Highway 101 that isn't especially scenic. Also, the north end of the trail has a lot of poison oak.
If it's installed, a summer-only footbridge across the Eel River can allow an easy and scenic walk to Rockefeller Grove. Unfortunately the footbridge hasn't been installed in recent years. Although the river is only a few inches deep and can be easily forded, it can also be contaminated with toxic algae during late summer when the river is especially low.
Hike description

---
Here's the trailhead location in Google Maps and Google Street View.
Although there aren't any real hiking opportunities here, it's possible to take a short walk along the parking lot access road, which runs through the best part of the grove. The walk is especially enjoyable in the winter and spring, when the road is closed. Start in the parking lot or, if the road is closed, start on the Avenue of the Giants just outside the gate.
The grove has a nice picnic area. The Four Fireplaces memorial, officially known as the Federation Hearthstone, was built in 1933 to commemorate the Federation's role in saving the park's old-growth redwoods.
More information

---
---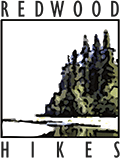 © 2015 David Baselt