Chandler Grove
---
Length 0.4 mi · Climbing 70 ft
Background

---
Chandler Grove is a small hillside redwood grove on the northern Avenue of the Giants. A short loop trail circles through the grove. The grove has a good-sized parking area, so it's easy to see from the road and a lot of people stop here. Unfortunately there isn't really much to see; although the grove is technically old growth, it mostly consists of uninteresting mixed-species uplands and isn't all that scenic. There is, however, an unofficial side trail that leads to a little glen where a creek runs through an attractive collection of redwoods.
Just across the Avenue, the High Rock Trail is much more spectacular, but it hardly gets any visitors because it's not visible from the road.
Hike description

---
Here's the trailhead location in Google Maps.
A short loop trail runs through the grove. The redwoods are noticeably smaller on the higher portion of the loop, and at one point almost disappear completely. At the southernmost end of the loop, look for a hard-to-see trail that leads down into a little canyon. This is by far the most scenic part of the grove.
---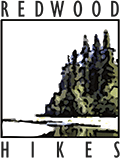 © 2015 David Baselt