★★
The Kent–Mather Loop Trail
---
Length 0.9 mi · Climbing 40 ft
The Kent-Mather Loop Trail is one of the more scenic alluvial-flat groves on the Avenue of the Giants. The entire grove is pure redwood and contains some pretty big trees. Sometimes in summer it can have a trampled, scraggly look and sparse groundcover. The distant, deep thrum of trucks passing on Highway 101 echoes through the grove.
The trail has become increasingly overgrown over the past few years, with unavoidable poison oak at one point.
The trail starts about a mile south of the Humboldt Redwoods visitor center, at the end of the parking lot for theGarden Club of America Grove. The Kent-Mather Grove is a sort of extension of the superb and no-longer-accessible alluvial flats of Canoe Creek, which until a 2003 fire were the main attraction of the Garden Club of America Grove.
The short road that leads from the Avenue of the Giants to the Garden Club parking lot passes through a less-than-promising, heavily-logged redwood grove. The trail, however, quickly leaves the dismal logged area and enters a very nice old growth grove sandwiched into a narrow strip between the Avenue of the Giants and the Eel River.
If the Garden Club parking lot is closed, which it is every winter, park instead in the small pullout on the Avenue of the Giants just a few yards north of the lot. In some ways the pullout is a better starting point, since it bypasses the dark, depressing logged area. However, the main lot is easier to find.
The trail starts off in a dreary logged grove where some huge trees have unfortunately been cut. Ascending a slight rise, the trail enters old growth after only a few yards. The biggest trees of the walk are right here at the edge of the old growth. This area is strikingly open, with almost no groundcover or understory, just the huge trees growing out of a bed of fallen redwood needles.
As the trail continues into an area of relatively small but still pretty impressive redwoods, a sparse sprinkling of redwood sorrel dotted with the occasional fern appears and the woods become lusher, denser, and more scenic. The trail also becomes narrower and rather overgrown, with occasional sprigs of poison oak.
The trail winds around an exceptionally large fallen tree (if you park at the Avenue of the Giants pullout, this is where your hike begins) and then splits into a loop. Going left, the trail skirts the edge of the forest for a short stretch, where it's usually heavily overgrown with poison oak. The trail then descends slightly into the dark redwood grove, winding among good-sized redwoods, before returning to the beginning of the loop.
---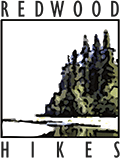 © 2007, 2015, 2017, 2020, 2022 David Baselt