The F. K. Lane Trail
---
Length 0.4 mi · Climbing 20 ft
Background

---
The Franklin K. Lane grove is the southernmost redwood grove in Humboldt Redwoods State Park. The tiny, isolated grove gets a steady trickle of visitors, mainly because it's the first attraction that northbound drivers encounter.
The grove has one short official trail and a few unofficial trails. The official trail mostly runs along the edge of the grove, where the trees are relatively small and grow amid a dense, jungle-like understory of smaller trees. An unofficial trail runs through the middle of the grove, which has much larger trees. Overall it's a fine-looking grove, but as expansive as the larger groves just a few minutes' drive to the north.
No roadsigns mark the grove, but it's hard to miss; just look for a big, circular dirt parking lot off the Avenue of the Giants just north of Philipsville. Somewhat unusually, the Avenue skirts the redwood grove rather than going through it, so you can't see much from the road. There's a grassy area with a picnic bench, and a small post marks the trailhead.
Hike description

---
Here's the trailhead location in Google Maps.
The trail starts out as an unpromising track through a disheveled grove of small redwoods with no groundcover or understory, just a lot of fallen branches. After a few yards, though, the trail approaches a 3-foot-tall embankment that's covered with a lush green carpet of redwood sorrel and ferns. The trail then splits; the right fork climbs the embankment and crosses through the middle of the grove, where it suddenly enters a much lusher and more attractive environment. This is the most impressive part of the grove, with large redwoods set into a think carpet of sorrel and plenty of ferns. There's also a dense understory of bay trees and a lot of poison oak. It's unclear why this part of the grove is so dramatically different.
An unofficial trail that crosses the main trail is actually an old alignment of the Avenue of the Giants. The trail is so well-used that it's a little hard to tell what's official and what's unofficial, but the unofficial trail is much straighter, with a gentle curve. The parts outside the official loop also have a few trees down. The unofficial trail runs through the middle of the grove and offers the best views of the grove's big old-growth redwoods.
The official trail crosses through the center of the grove and after just a few yards reaches a steep hillside that marks the limit of the grove. The trail then turns left and circls around the edge of the grove. The trees are much smaller in this area, and some stumps are visible on the hillside and at the base of the hill. There are few big trees near the end, although there are also a lot of large fallen logs. Poison oak is especially bad in this last stretch.
---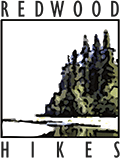 © 2007, 2012, 2020 David Baselt