Nelson Grove
---
Length 1.3 mi · Climbing 100 ft
Nelson Grove is on the Eel River just below Hidden Springs Campground, Humboldt Redwoods' biggest campground. A short trail, the Hidden Springs Beach Trail, passes through the grove. The trail is mainly there to give campers a convenient way to get to the river, but locals also use it to take their dogs for a swim.
The grove is on a narrow alluvial flat sandwiched between an old road and the Eel River. One end of it has been partially loggged. The grove's narrowness and somewhat gloomy location make it less attractive than most of the other Eel River groves. However, it still has a decent collection of large redwoods.
Hike description

---
Here's the trailhead location in Google Maps and Google Street View.
Park in the large pullout just west of the campground entrance. A gated paved road descends into the redwood grove. Although it's not marked, this is Nelson Road; it appears to be an old alignment of the Avenue of the Giants.
Below the road, on a narrow bench next to the Eel River, is a open grove of some pretty good-sized redwoods. Unfortunately this part of the grove has seen some logging; a few stumps mar the otherwise impressive grove.
Take the trail to your right. There's a sign that says "Trail" but there's no trail name. The trail has a little poison oak but is otherwise well-maintained.
The trail leaves the redwoods and ends at a gravelly beach. Continue straight ahead onto the beach and then go left; the trail resumes in a few yards, becoming a rock-paved path.
Re-entering the redwoods, look for a clear but unmarked trail to your right. The trail, which is the most scenic part of the loop, runs through a second narrow, redwood-covered flat. This flat isn't as open as the first one but is in better condition and doesn't have any stumps. There are some pretty impressive redwoods here, but the bench is only a few yards wide and the trees are much smaller on the slope above the bench.
The trail ends at paved Nelson Road. Turn left and return to the pullout where you parked.
---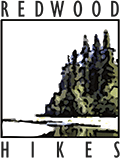 © 2017 David Baselt