Florence Keller is a cheap, easy place to stay in the redwoods. The small county-owned campground is just outside Jedediah Smith Redwoods State Park, but unlike Jed Smith, they don't take reservations and they usually have sites available, even in summer.
The campground is in the deep shade of a strikingly lush and dense second-growth redwood grove. Although there are huge stumps scattered around, the scenery is actually pretty attractive for a second-growth grove, with none of the scraggly, disheveled look that usually affects logged areas.
The sites tend to be small and closely packed together. A few sites have lots of space but none are really private. The pullouts are really tiny.
The entire campground gets traffic noise from Elk Valley Cross Road. The lettered sites (which are only open in the summer) are further from the busy roads and get a little less noise.
In past years the park was poorly maintained, but recently the county renovated the campground and hired a new host to maintain it, and now it looks pretty nice. The main problem is that there's only one tiny bathroom building with one stall for the whole campground, and no showers (you could drive to the Jedediah Smith campground, but you'd have to pay an $8 parking fee). Some online reviews report sketchy-looking people staying at the campground, but I haven't seen it myself.
Florence Keller is the only redwood park on a coastal plain. Throughout the redwood's range, the coastal plains have been so completely deforested to create towns and agricultural fields that it now looks like redwoods never grew there at all. Judging from what's left at this little park, the plains once hosted some remarkably expansive and spectacular redwood groves.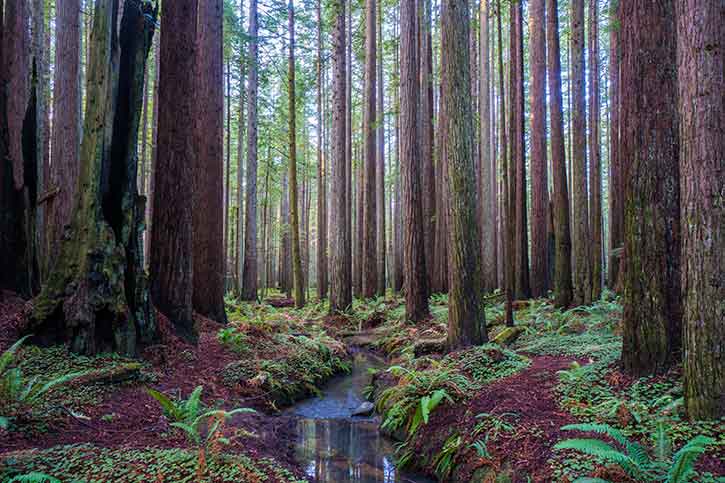 Campground details

---
Campsites are $20/night; site 14 has RV hookups (but there's no dump station) and goes for $30/night. There are no reservations; just show up, pick a site, and put your money in one of the envelopes across from the camp host. The maximum stay length is 5 nights/year.
Things to do

---
There's a pretty nice playground and ball field (which are actually part of the large group picnic area) and a bunch of trails through the redwoods. It's easy to get lost in the tangle of poorly-defined, unmarked trails, but fortunately the grove isn't that big so you'll eventually find your way out.
There are signs everywhere that say "no free picnicing", but there's also no option to pay a day use fee if you just want to come into the park to see the redwoods.