Little Bald Hills is the nicest backcountry campground in Redwood National and State Parks, but it's little-used, since unless you just want a nice quiet place to camp there's really not much reason to come up here. There aren't any redwoods or other exceptional scenery around the camp, and the Little Bald Hills Trail doesn't really go anywhere interesting, although there's a drive-in campground, Sand Camp, another 6 miles down the trail.
The campground is in a quiet, little-visited area three and a half miles up the Little Bald Hills Trail. It's a true backcountry campground, with no roads or other development nearby. The sites are spread out along the edge of a little meadow; one of the sites is fully in the meadow, while the others are under the shade of some large fir trees; one is completely enveloped by dense firs. The woods that ring the meadow are quite lush and attractive.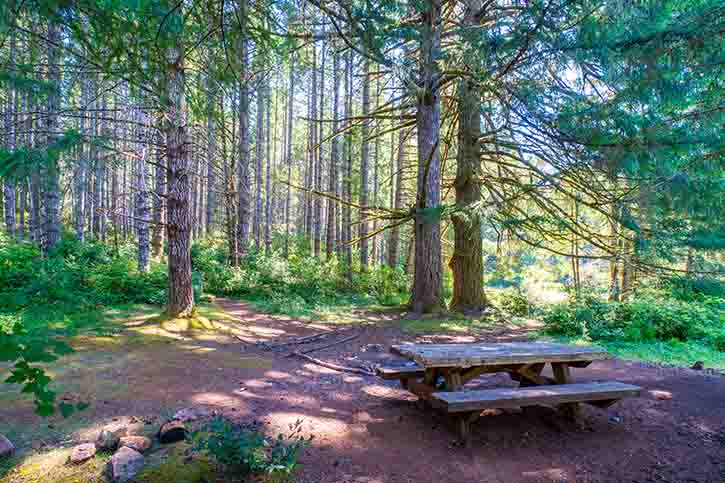 The camp is mainly intended to be a horse camp, and there's a corral near the entrance. Presumably the camp was built in an out-of-the-way location to avoid conflicts between hikers and horses.
Site 2 is a 20-person group site, but it's not clear exactly where it is since there aren't any numbered signposts.
Details

---
It's free to stay here, but you need to apply for a backcountry camping permit between 2 and 28 days before your stay. The camp has a maximum 5-day stay.
There are fire pits and a single outhouse, and water is available at the first campsite.