Sand Camp
---
Unofficial primitive camp · free
Sand Camp is not an official campground, but you can camp here because it's part of the Six Rivers National Forest, an immense swath of mountains east of Redwood National and State Parks. Unlike National Parks, National Forests don't preserve land in a pristine natural state; they're mainly intended to supply a sustainable source of lumber. So they're a lot more relaxed when it comes to camping. In fact, in National Forests you can camp almost anywhere you want, for free.
Sand Camp is one of the places in the National Forest where people can and do set up camp. It's popular enough that a large parking lot with a vault toilet and a big "Sand Camp" sign was added a few years ago. Officially, though, Sand Camp is a river access point. So there aren't any defined campsites, water, or other facilities, just two or three flat spots in the woods with fire rings that campers have made out of rocks. Most visitors just camp in their RVs in the gravel parking lot. Despite the crudeness of the camp, it's right next to the river, it's in a quiet area well away from busy roads, and it's completely free.
The camp is in the rugged Smith River gorge seven miles south of Highway 199 and Jedediah Smith Redwoods. The steep, starkly rocky gorge doesn't look anything like the lush woodlands of Jed Smith; it has a much dryer look and doesn't have any redwoods. The site is also pretty isolated. There's a store in the tiny town of Hiouchi, but you'd have to drive all the way to Crescent City for most shopping needs.
You do need a free permit (available online) if you want to light a campfire or use a gas stove, and you're not supposed to stay more than 14 days.
There aren't any reservations, but the area does fill up on summer weekends. If it's full, there are parking areas every few miles where you can camp, and there's a real National Forest campground, Big Flat Campground, another 15 minutes' drive up the road.
There's a little whitewater just across from the camp, and when the water is high enough people often raft by. In the winter, fishing in the river is popular; a fishing license is required.
Links

---
---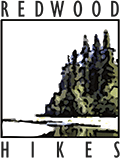 © 2019 David Baselt