★★★
Alamere Falls
---
Length 8.3–15.6 mi · Climbing 1350–2630 ft
Alamere Falls is is a spectacular waterfall that cascades onto a scenic beach. It's one of the Bay Area's most popular hiking destinations: on a nice weekend afternoon the trail from the Palomarin trailhead is a nearly continuous stream of people. Unfortunately the falls can also be an unusually hazardous hiking destination, and there isn't any reliably safe way to reach them. Ironically the danger only seems to add to the falls' popularity by making the hike that much more exhilirating.
Check the tide and surf forecast before hiking. Sometimes the beach is built up enough that you can reach the falls even at high tide, but at other times the beach gets eroded by heavy surf, and it's not possible to reach the falls unless the tide is below about 3 feet for the Palomarin route or 0 feet for all other routes.
The falls are at their most spectacular right after spring storms which, of course, is when high waves and low beach levels make getting there the most dangerous. Over the summer the falls reduce to an unimpressive trickle, but the beach route gets easier.
Here are four possible routes to the falls.
More information

---
---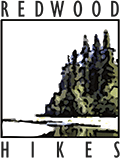 © 2019 David Baselt