★★★
Alamere Falls, Palomarin Route
---
Length 13.8 mi · Climbing 1850 ft
The park recommends avoiding the unofficial shortcut on the Palomarin Route by continuing up the Coast Trail for 1.5 miles to Wildcat Camp, then walking down the beach 1.3 miles to Alamere Falls.
This route isn't necessarily safe, because a large rock juts out into the ocean just a few yards before the falls. People can sometimes be seen sprinting past the rock between huge waves that crash spectacularly against it. How easy it will be to get past depends not just on the tide and surf height but also on the beach sand, which shifts around from month to month and year to year. So even if the tides and surf are low it may not be possible to reach the falls safely. In general, conditions are best in the fall and worst in the spring.
This route is a lot longer but also a lot more scenic than shortcut route; the walk down the beach with its crashing surf is a nice contrast to the quiet interior of the park.
The sand is soft, so the walk down the beach is a bit of a slog; the waterfall is visible the whole way and it doesn't seem to get any closer until you round the final bend.
---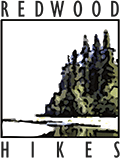 © 2019 David Baselt