★★★★
Angel Island Campgrounds
East Bay, Sunrise, Ridge, and Kayak
---
Open all year · $35/night + $8
Scattered around Angel Island are 10 campsites, most with scenic views of San Francisco Bay. The sites are so popular that it's practically impossible to book a Saturday night stay, even in winter.
All sites require a 1–2 mile walk from the ferry landing. A lot of people bring their stuff in rolling coolers or wagons, which is possible because Perimeter Road is paved and relatively level except for the steep climb out of Ayala Cove. It still seems like a really long way to drag a wagon, though.
The park may eventually set up 13 basic cabins (no heat, electricity, or plumbing) on the open hillside next to the immigration station.
Details

---
Each site has a picnic table with a well-built food locker and a charcoal grill. No wood fires are allowed; the grill is only supposed to be used with charcoal, which isn't sold on the island. There also aren't any camping supplies or provisions for sale on the island. The Kayak and Sunrise sites have vault toilets; the others have outhouses.
Links

---
Make reservations at Reserve California; search for Angel Island. You can make reservations beginning at 8:00 am up to six months in advance of the first night of your stay. Since the maximum stay length is 7 nights, Saturday nights can actually sell out 6 months before the preceding Sunday.
---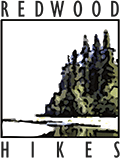 © 2019 David Baselt