★
Arch Rock
---
Length 11.4 mi · Climbing 1360 ft
The Bear Valley Trail is the most popular trail in Point Reyes, probably because it starts right next to the main visitor center and is an easy and pleasant walk through cool, lush woods with large trees, a year-round brook, and ferns. However, the wide, flat dirt road is a little dull on its own. The recommended route below adds some singletrack trails that make the hike much more rewarding, providing a nice scenic payoff of ocean views and attractive coastal woodland.
Start at the Bear Valley Visitor Center and hike up the dirt road at the end of the access road. After starting in a open meadow, the Bear Valley Trail soon plunges into lush woodland. The road is quite busy; on a nice summer weekend you might see one or two groups each minute, and there's almost always at least one group visible ahead of or behind you. There's also a lot of horse manure on the road.
To your right are some charred trees from the August 2020 Woodward Fire. Overall, though, the woods along the Bear Creek Trail look the same as they did before the fire.
The road climbs gently up to Divide Meadow. As the road gets steeper, the woods become somewhat less lush and begin to open up.
Divide Meadow is where most people turn around; there are a lot fewer people on the trail as it starts to descend on the other side of the meadow. The woods on the second half of the trail are also somewhat more attractive, becoming dark and lush as the trail descends.
The good part of the hike begins at a bike rack and 4-way intersection, which is a popular rest area. The scenery improves quite a bit as the trail gets narrower and passes through a narrow, fern-encrusted canyon. The trail is usually a dirt road in this area, but sometimes it turns into a singletrack trail.
The trail emerges from the woods near the coast and then turns into a true singletrack trail. An unofficial side trail to the leads to the edge of a cliff with a good view of the collapsed remnants of Arch Rock.
The trail climbs the scrub-covered hillside, offering some nice ocean views. After a long climb the trail levels out and passes through an attractive pine grove. Much of the trail as carved out of a 6 foot thick mat of coastal scrub.
Skip the Coast/Glen Spur North and continue to the Coast/Glen Spur South. This detour adds about a mile to the hike. The payoff is a short but very scenic descent through a very attractive fir grove, the best woodland of the hike.
The Glen Trail features some brief but nice views of the green, conifer-covered hills of the Point Reyes interior. Looking at the dense, unbroken woodland, it's hard to believe that miles of stark coastal scrub starts nearby.
---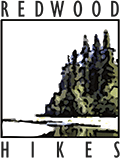 © 2016, 2021 David Baselt