★
The Bay View and Shoreline Trails
---
Length 8.4 mi · Climbing 830 ft
This loop is a very popular biking route, mainly because it's all flat or downhill except for a big climb at the beginning. At peak times you may see a mountain biker once every 2 or 3 minutes; hikers appear only once every 2 or 3 hours. As a hike it's a bit dull and it feels like you're constantly being passed by mountain bikes.
Everyone rides the loop going counter-clockwise so that all of the the climbing is at the beginning, followed by a long, gradual descent. It's kind of dangerous to go clockwise since no one expects to see people going that direction.
The route is almost entirely wooded. For the most part the views are hidden by the trees, but there are a few glimpses of San Pablo Bay.
You can either start in the day use parking lot and pay the $5 parking fee, which includes 4 day use passes, or park just outside the park on North San Pedro Road and buy a $3 day use pass for each person. The special $3 day use fee is a lingering legacy of the state's attempt to close the park due to budget cuts back in 2012.
The Bay View Trail climbs partway up San Pedro Mountain before beginning a long, gradual descent. It contours through a series of ravines, most of which are deeply shaded by bay laurel groves, but at one point there's a stand of small second-growth redwoods. Near the end there's a pretty nice view of the Richmond Bridge.
The Shoreline Trail is relatively flat and mainly shaded by oaks, with a much more open environment.
---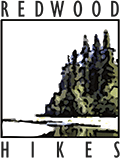 © 2020 David Baselt