China Camp features an undeveloped stretch of San Pablo Bay shoreline just outside San Rafael. The park is named for a 19th-century shrimp fishing village, which today is a cluster of unremarkable buildings.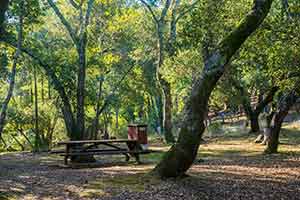 ★★
Back Ranch Meadows Campground
Open all year · $35/night + $8
China Camp's campground, which is a 100–400 yard walk from the parking lot, is tucked away in a sheltered glen under the deep shade of a dense oak grove.