China Camp State Park
---
Hikes

---
* The Bay View and Shoreline Trails (Length 8.4 mi, climbing 830 ft)
This wooded loop is mostly flat or downhill except for a big climb at the beginning. It's a very popular biking route but might be a bit dull for hiking.
Walk-in campgrounds

---
** Back Ranch Meadows Campground (Open all year, $35/night + $8)
China Camp's campground, which is a 100–400 yard walk from the parking lot, is tucked away in a sheltered glen under the deep shade of a dense oak grove.
---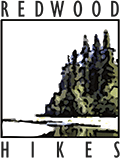 © 2020 David Baselt