★★★
Coast Camp
---
$20/night · Open all year
Coast Camp is on the scenic, remote Point Reyes coastline. Most people walk in from the Laguna tralhead, from which it's a slightly hilly two-mile walk on the Laguna and Fire Lane Trails or a flat three-mile walk on the Coast Trail. It's also possible to start from the Limantour trailhead, from where it's a much more scenic mile-and-a-half walk along the beach, optionally cutting over to the Coast Trail after the first half-mile. Not many people use this route because it's not marked as a trail on the official map, and if the tide is really high the beach could be completely under water.
The entire camp is in open coastal scrub with no shade. Each site has a picnic table, food locker, and charcoal grill. Wood fires are not allowed in the campsites, but you can get a free permit for a beach fire; however, the beach has been picked clean of driftwood. The food lockers keep the aggressive raccoons out, but mice often manage to get in. There's a vault toilet and potable water.
Sites 1–7 are on a scrub-covered hillside and are the most popular since they're well-separated and have good privacy due to the dense scrub surrounding each site. They're all pretty similar, except the lower-numbered sites have partial ocean views: the lower the site number, the better the view. On the other hand, sites 6 and especially 7 have the most privacy.
Sites 8–14 are scattered along a dirt road in a shallow valley; a hill blocks some of the cold ocean wind from these sites. It also blocks the ocean views, although you can still hear the surf. Except for site 14, these sites are in an open grassy area without any scrub to provide privacy. On the other hand, because they're so open they do have lots of space for tents. Site 14 is the exception and is well isolated in a thicket of scrub.
Sites 9–12 are relatively close to each other and have the least amount of privacy. 8 and 13 are group sites; you have to have between 7 and 25 people to stay there.
Make reservations at recreation.gov. Click on the "Loop" column to sort by campground. Reservations become available 6 months ahead of time and summer weekend reservations generally sell out within a few minutes. You can reserve up to four nights. On the first day of your reservation, check in at the Bear Valley Visitor Center to pick up your camping permit (which is supposed to be attached to the outside of your tent) and overnight parking permit; if you expect to arrive after the visitor center closes (4:30 in winter, 5:00 in summer), call the visitor center before they close so they can leave the permit for you.
---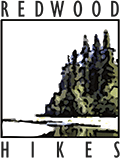 © 2019 David Baselt