★
Drakes Head
---
Length 9.0 mi · Climbing 970 ft
The interior of Point Reyes is dominated by Drakes Estero, but few trails offer any sort of view of this large body of water. The Estero Trail, which runs almost entirely over the low, treeless, coastal scrub-covered hills that are characteristic of eastern Point Reyes, is the best of those trails. The strikingly calm, baby blue waters of the Estero combine with the flat topography of the area to create a distinctive landscape. Especially on a sunny day, the wide-open green spaces and the superb views of the ocean and estuary are a treat.
The main drawback of this hike is that the southern half is a little dull; the landscape is so flat in this area that the scenery doesn't really change that much. Nonetheless the hike is quite popular, especially given how long and remote it is; the parking lot sometimes fills up (although I've always been able to find a spot) and you might pass a group of hikers every 5 – 10 minutes on a summer weekend.
Start at the Estero Trailhead. The trail runs through rather mundane coastal scrub for a while before descending into an attractive pine grove.
Leaving the pine grove, the trail crosses an arm of the estuary on a footbridge. The gravel-covered trail then climbs a series of three hills with great views of the estuary.
At the end of the gravel section, skip the Sunset Beach Trail, which is somewhat misleadingly named; the "beach" is actually a mud flat. Instead, turn left onto a faint track. The scenery becomes much less attractive as the trail leaves the views of the Estero behind and runs over brown cow pasture.
Turn right onto the Drakes Head Trail, a faint track that runs through brown scrub. The scenery is nothing special, although there are some views of the Estero and the distant sound of the crashing surf. A 300-yard section of the trail has recently been covered up by a rough ranch road; when the road curves to the left, take the faint, unmarked track ahead. There's a long, gentle descent followed by a slight climb to the top of the bluff. At the end of the trail is a magnificent sweeping view of the ocean and the estuary.
---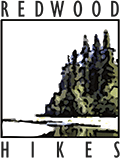 © 2016, 2021 David Baselt