★
The Muddy Hollow Loop
---
Length 7.3 mi · Climbing 800 ft
This loop runs over the low open hills at the border between the wooded and bald portions of Point Reyes. There isn't any really exceptional scenery here since the trail isn't that close the water, the hills are too low to have any great views, and what views do exist are screened by grass and scrub. But it's still quite a pleasant hike, mainly because there aren't a lot of distractions: the trail is quiet, with no roads or development nearby and few other hikers, it's easy to hike with lots of attractive wide-open spaces, and there are a few distant views of Drakes Estero. The trail is generally in good condition and since it doesn't have any major climbs it's a quick hike for its length.
This area is home to a herd of 130 elk, one of three Point Reyes herds. The strange sounds of elk bugling can sometimes be heard, but the elk themselves usually can't be seen.
Start at the Muddy Hollow Trailhead and hike west on Muddy Hollow Road. The road, which looks like a dirt road at first but soon narrows to a trail, winds over scrub-covered hills. Some of the hills are capped with trees but the trail itself is almost completely open.
Take the Glenbrook Trail, which is the first trail on the left. The trail climbs a small hill before emerging onto a wide, low ridge.
(For little more variety, skip the Glenbrook Trail and instead continue on Muddy Hollow Road to the White Gate Trail, then turn left onto the Estero Trail. This route adds 2.1 miles and has the best scenery of the hike, with some nice water views. The drawback is that the first quarter-mile of the Estero Trail is heavily overgrown with tall grass.)
The Estero Trail runs along a wide-open, scrub-covered plateau with some distant views of Drakes Estero and Drakes Bay. The trail then descends into a wide, shallow valley, diving into a little strip of woods that surrounds a creek crossing. The trail can get quite overgrown with stinging nettles in this area.
As the trail begins a gentle climb to the low ridge on the other side of the valley, the landscape becomes less open and dotted with trees. There's a little poison oak here, but it's easily avoided.
The trail enters a dense grove of tiny pine trees as it descends; in places it turns into a tunnel through the trees. The trail ends at Muddy Hollow Road.
Muddy Hollow Road is fairly popular. To make a 10-mile hike, you can turn right and follow the road to an attractive marsh and Limantour Beach, then turn around and return the same way. Or just turn left to return to the Muddy Hollow trailhead.
Here's the trailhead location in Google Maps and Google Street View.
Links

---
---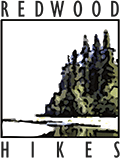 © 2017, 2021 David Baselt