★★★
The Point Bonita Lighthouse
---
Length 1.0 mi · Climbing 100 ft
Point Bonita is a short, scenic walk along a dramatic, rocky coast to a promontory with a tiny lighthouse. It's a popular destination; although not nearly as busy as the nearby Conzelman Road, during the few hours each week when it's is actually open there's a continuous stream of people on the trail. The lighthouse itself is a little small and underwhelming, since it has to be short to keep it under the fog; it's not so much of a destination in and of itself, but an excuse to get out and see some great costal scenery.
The lighthouse is only open on Sundays and Mondays from 12:30 to 3:30 pm, but you really have to get there before 2:30 because the trail is closed to outbound hikers at 3:00. The lighthouse may also be closed if it's especially windy or rainy. When the lighthouse is closed you can't walk the best part of the trail or even see the outside of the lighthouse. There's no charge to visit the lighthouse.
It can be a challenge to get here on summer weekends, especially in the afternoon, since traffic on the Golden Gate Bridge gradually gets worse throughout the day. It once took me 3 hours to get here from San Francisco because some sort of special event was snarling traffic. Also, there are only 10 parking spots at the trailhead, so you'll usually need to park at Battery Alexander, a quarter-mile down the road.
The paved trail descends, at one point pretty steeply, from the parking lot to a rocky point, with great views of San Francisco and the waves crashing on the rocky coast below.
About three-quarters of the way to the lighthouse the trail passes through a long tunnel; if the lighthouse is closed, which it usually is, a steel door blocks the trail at the tunnel entrance. The door is closed at 3:00, so if you're on the other side you'll get locked in until a ranger lets you out. The lighthouse can't be seen at all until after the tunnel.
There's a long, high, swaying wooden suspension bridge which can be a little daunting when it's windy. A ranger always stands next to the bridge to make sure too many people don't cross over to the lighthouse at once. The lighthouse itself is tiny; you can go inside but you can't climb up into the tower. The other buildings aren't open. There's a pretty nice view of the rocky cliffs to the north.
---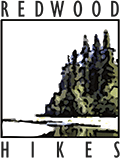 © 2019 David Baselt