★★★
Sky Camp
---
$20/night · Open all year
Sky Camp is on a scenic ridgetop that's covered with a mixture of lush woods and open coastal scrub. Some sites have views of the ocean and the green hills around the camp, although the views are somewhat limited by the scrub. The camp is reached by a wooded one and a half-mile climb on a wide, well-maintained crushed-gravel road.
The camp is very well laid out, with ample space between sites and dense 6-foot-tall coastal scrub providing lots of privacy. However, you have to choose whether you want privacy or a view. If you only need space for one tent, I like site 11, mainly because it has the best view to the west. However, it's really small and has a limited privacy, since it's in view of site 12. Site 10 has more privacy and space but less of a view. Site 3 and 4 only have a little bit of an ocean view but are very private.
Each site has a picnic table, food locker, and charcoal grill; wood fires are not allowed. Water is available.
Sites 5 and 12 are wooded. They're very attractive but the camp is in is a really cool, foggy area, so these sites can get wet from the condensation that drips from the trees.
I'm not sure why, but site 1 is not reservable.
Most sites accommodate up to 6 people and cost $20/night. Site 2 is a group site; you must have between 7 and 25 people to camp there, and the cost is $40/night in winter, $50 in summer.
There are lots of remote, wilderness hiking opportunities around the camp, most notably a 2.5-mile loop around the Z Ranch Trail, an 8-mile round-trip hike down to Sculptured Beach, or a 10-mile hike down to Kelham Beach.
Make reservations at recreation.gov. Click on the "Loop" column to sort by campground, then "Load More" to see the Sky Camp sites. Reservations are available 6 months ahead of time and summer weekend reservations generally sell out within a few minutes. You can reserve up to four nights. On the first day of your reservation, check in at the Bear Valley Visitor Center to pick up your camping permit (which is supposed to be attached to the outside of your tent) and overnight parking permit; if you expect to arrive after the visitor center closes (4:30 in winter, 5:00 in summer), call the visitor center before they close so they can leave the permit for you.
---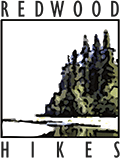 © 2019 David Baselt