★★★
McKinley Grove
---
Length 0.3 mi · Climbing 30 ft
McKinley Grove is a tiny, isolated patch of sequoias between, but not easily accessible from, Yosemite and Kings Canyon. The core of the grove is a small, shallow basin where a short paved path leads through a cluster of about 20 big sequoias.
The grove is so small that most of the biggest trees are visible from the parking area. But what little there is of the grove is exceptionally scenic, with an unusual number of really big trees for such a small area. What's more, the trees grow in an attractive setting that looks a lot like the Giant Forest, with little or no groundcover and an open understory of leafy dogwood trees that bloom in May. Parts of the grove were logged in the 1980s, but everything that can be seen from the path appears to be unlogged old growth.
Although the grove is by no means crowded, there are usually two or three cars parked in the little turnout. Most visitors seem to stop here on their way to or from the remarkably scenic high country just a few miles further up the road, including Courtright Reservoir, the Dinkey Lakes Wilderness, and the John Muir Wilderness.
There's a nice campground nearby, with 10 spots scattered around a large loop so the campsites aren't too densely packed.
The grove can be reached by taking Highway 168 from Fresno. It's an unusually easy climb into Sierra National Forest; the road is wider and less twisty than the ones into Sequoia and Kings Canyon. The mountains aren't especially dramatic but are covered with lush, attractive pine forest. Within this landscape the grove is a unique and surprising feature; there's really nothing else like it until the road curves over the lip of a shallow amphitheater-like depression and suddenly enters a shady, full-blown sequoia grove.
A short path, which can be walked in about 10 minutes, winds through the grove. The biggest trees are to the left as you start out from the parking area; to the right the sequoias seem to peter out, but there's a large fallen tree, which is a popular sight, and a group of three smaller sequoias.
The grove supposedly has 150 or 200 large trees, some of which may be on the trail-less hillside on the other side of the road. However, no sequoias are immediately visible in that area.
Related websites

---
---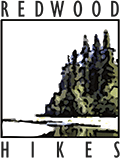 © 2014 David Baselt