The very popular Black Diamond Mines Preserve is in the hills above Antioch. Old mines and the now-empty sites of mining towns are scattered throughout the park. There's a nice mixture of oak woodlands and rolling grass-covered hills, with great views of Antioch and the surrounding hills.
The park's main mining-related sight is the Hazel Atlas Mine. The open part of the mine is a long tunnel with an impressive series of chambers branching off of the end. The mine can only be seen by reserving a $5, 1-hour tour. However, you can also visit the Greathouse Visitor Center, a smaller, but still pretty impressive, mine tunnel, for free without a reservation.
The park also has five old town sites. No sign of the towns remain; all that's left are rather unattractive patches of bare ground and piles of mine tailings.
Hikes

---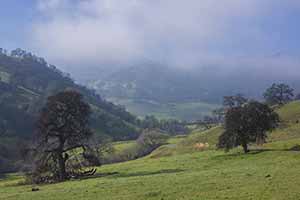 ★
The Ridge Trail
Length 5.4 mi · Climbing 980 ft
Starts at the Frederickson Road trailhead, skirts the pastoral Lone Tree Valley, and climbs to a ridge with great views over Antioch.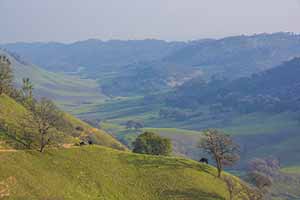 ★
The Star Mine Trail
Length 7.3 mi · Climbing 1560 ft
From the very popular Somersville Road trailhead, this hike climbs to a ridge and descends into the vast, undeveloped Deer Valley.
Backpack camps

---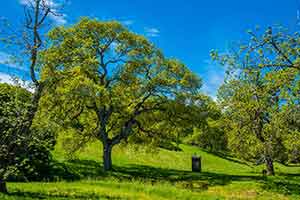 ★★★
Stewartville Backpack Camp
$5/person/night · Apr–Oct
A single-site trail camp at the edge of a huge, sweeping cow pasture. It kind of feels like you're a cowpoke camping on the range.