★★
Brushy Peak Regional Preserve
---
Livermore
In the stark, treeless landscape north of Livermore, Brushy Peak stands out because it alone is capped with a little oak grove. The peak's bright, open slopes are the location of a small park that provides the perfect relief from gloomy winter days.
Another of the park's distinctive sights are the many small windmills of the Altamont Pass wind farm, which line the ridgetops just to the east.
The park and especially its main attraction, the loop trail to Brushy Peak, can be quite popular on nice weekends. Nonetheless, the park is in an isolated area and can be exceptionally quiet, unless, as often happens, the sound of gunfire drifts over from the Livermore/Pleasanton Gun Club.
The park is heavily grazed but the cows are unusually friendly. After it rains the clay soil sticks to your shoes, making it difficult to walk, while in summer it can get much too hot.
Throughout most of the hike the distant sound of gunfire from the Livermore Pleasanton Rod and Gun Club, about 2-3 miles away, can be heard.
The loop trail can be reached by dirt roads that run along the bottoms of shallow valleys, or by roads that run along low ridges. The ridge routes are much more scenic.
Start on the Tamcam Trail, which starts from the upper end of the lot, between the restrooms and a beige tank tower. After the gate, take the dirt road to the left. The road climbs up and over a small ridge, with the Altamont Pass windmills as a constant backdrop, then descends and ends at the valley road. Turn right; the road ascends and doubles back as it climbs to a ridge top.
The road turns into a trail that climbs the treeless lower slopes of Brushy Peak before reaching the oak grove. The grove is studded with small boulders. The trail meanders enjoyably among the oaks for a quarter-mile, by far the best part of the hike, but it unfortunately doesn't actually reach the peak. A steep unofficial trail climbs toward the peak but the way is blocked by a barbed wire fence. Even so, the side trail offers the best views in the park and a bit more time among the oaks.
The trail begins to descend. When it ends at a dirt road, turn right and ascend slightly to a ridgetop. The road gradually descends back to the parking lot, passing an attractive little pond.
---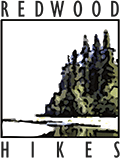 © 2015, 2020 David Baselt