Perched on a plateau on the side of Mount Diablo, the very popular Juniper Campground features dramatic views of the San Ramon Valley.
Most of the sites are large and spaced well apart.
South side

---
The sites on the south side of the campground are in a scrub-covered area and have the most privacy, since each site is surrounded by a dense wall of scrub. However, they tend to be hot in summer because they don't have a lot of shade, and cold and breezy in winter because they're on the edge of the plateau. Sites 11, 13, 15, 16, and 17 have views, but the scrub is so tall that you can't actually see anything while sitting at the picnic table. One or two of these sites do have little breaks in the scrub where you could set up a few chairs.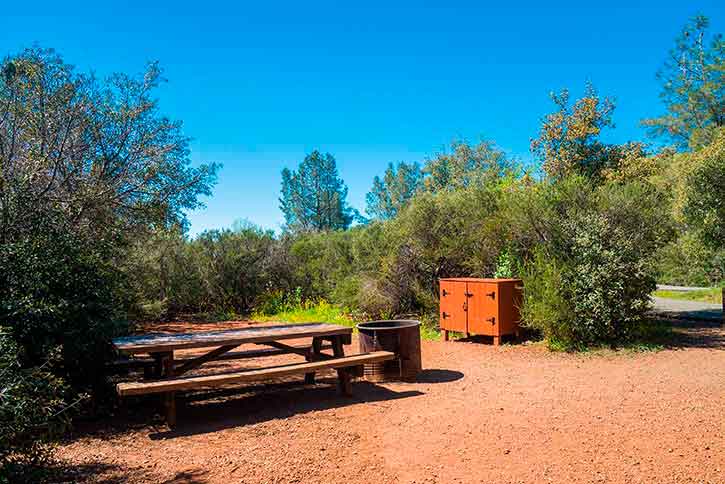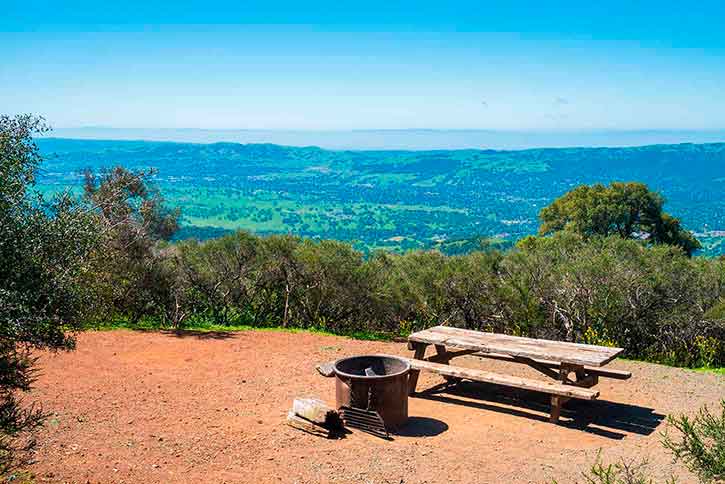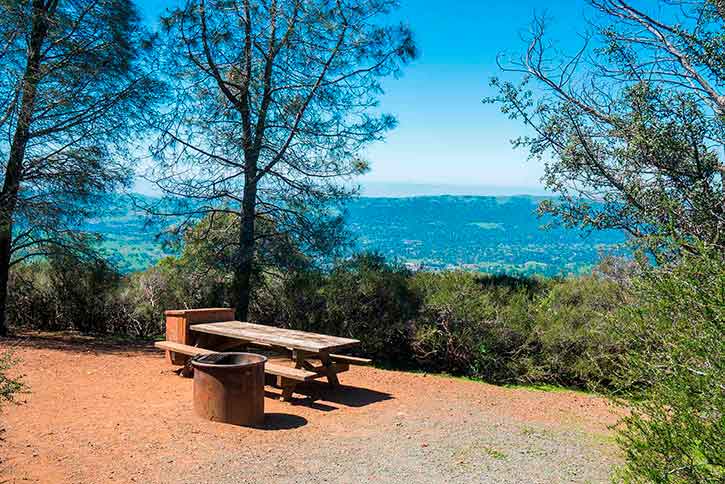 Inside the loop

---
Sites 18, 19, 21, 22, 24, 34 and 36 are in a much more sheltered location within a grove of trees. These sites are popular because they're the only ones that are completely shaded; however, the woods are so open, and the sites so close together, that they don't have any privacy. Sometimes people in neighboring sites (like 2, 4, and 8) also set up their tents in the shade of the grove.
Sites 28, 30, and 32 are inside the loop, but not under the trees. They aren't very shady, but they're large and reasonably private. These are pretty nice sites if you don't need to have a view.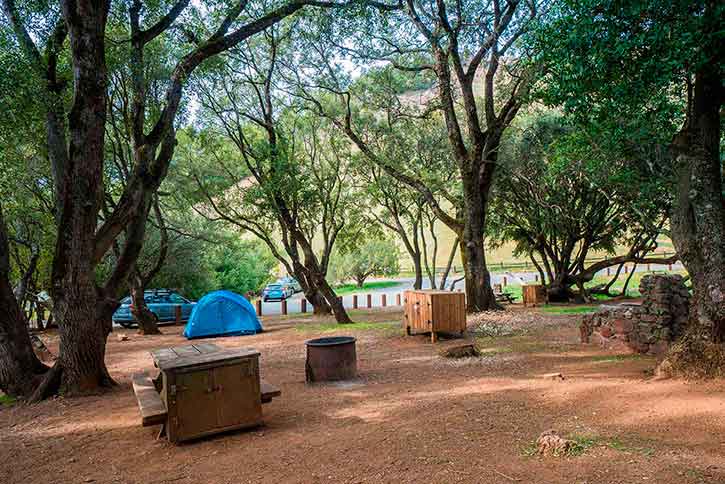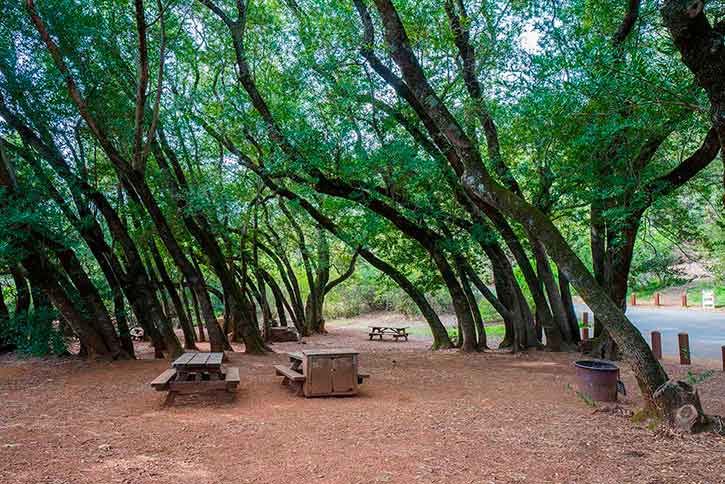 North side

---
The sites on the north side (25, 27, 29, 31, 33, and 35) are pretty well spaced out and screened from each other by vegatation, although they aren't screened from the road. Site 33 is the worst, since it's oddly tiny and right on the road.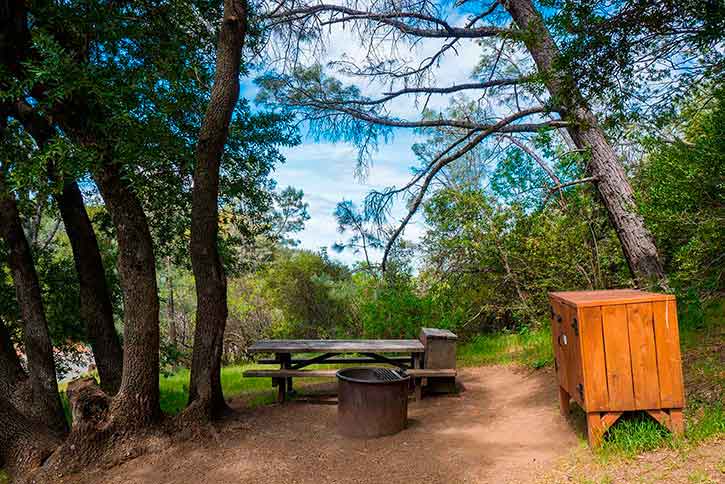 The campground is frequented by raccoons that are remarkably aggressive about going after any food left out. It can also get buggy.
Things to do

---
If your site doesn't have a view, the campground has an open area next to site 17 where everyone goes to watch the sunset.
The campground doesn't offer ranger-led presentations, but once a month the Mount Diablo Astronomical Society has a public astronomy program in the lower summit parking lot.
There's some pretty nice hiking in the area around the camp, especially in spring, before it gets hot and dry. In particular, there are several routes to the summit, including a direct 3-mile round-trip on the Juniper Trail and a more roundabout, 7-mile loop via Burma Road.
Details

---
All sites have picnic tables and fire rings, but wood fires are only allowed in the winter and spring. A few sites (20, 22, 24, 34, and 36) have stone grills that can be used for charcoal fires. Alcohol is prohibited. The campground has showers and flush toilets, but due to the lack of water they're often closed during dry weather, in which case porta-potties are provided.
Campsite selection used to be first-come, first-served, but you can now reserve specific sites.
The fee includes the $10 entrance fee for one car. You can bring a second car, but it will be charged the entrance fee. The park entrance gates close at sunset, after which you won't be able to enter or leave the park.
Up to 8 people can stay at a site. RVs up to 20 feet can be accommodated, but trailers are not permitted.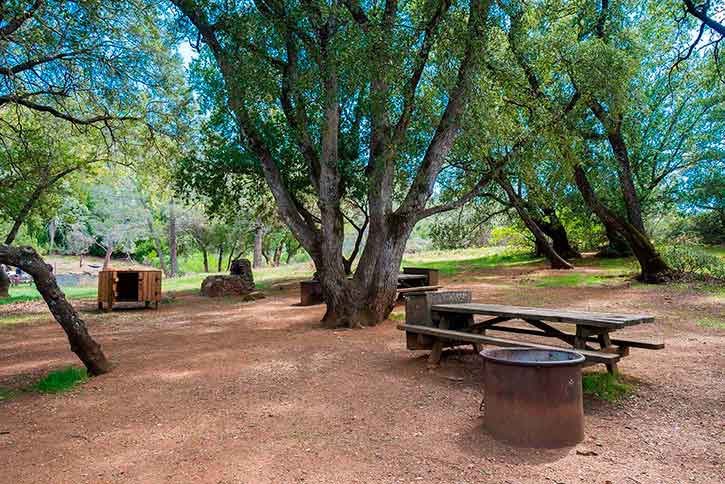 Links

---