Mount Diablo State Park
---
Background

---
Mount Diablo is one of the more interesting and challenging places to hike in the East Bay. Besides the unreal views of the East Bay and Central Valley, the mountain has an unusually wide range of ecosystems, including attractive oak-dotted meadows, unusual Coulter Pine groves, coastal scrub, and sun-blasted chaparral. In spring flower enthusiasts come out to see the profusion of unusual flowers that grow among these varied plant communities. In general the scenery gets more interesting as you get closer to the summit, with the most exceptional hikes above 2500 feet. But there are also some very good hikes at lower elevations, especially in the oak-wooded foothills.
Hiking Mount Diablo can be rewarding, but it's not easy. The trails, especially the ones close to the summit, tend to be steep, gravelly, and difficult. The mountain is dominated by shrublands so much of the trail system is exposed, and the singletrack trails are almost always narrow, with lots of encroaching brush and poison oak.
The busiest parts of the park are Rock City, with its odd rock formations, the summit, and the road to the summit, which is very popular with cyclists. Just below the summit are a lot of picnic areas which are attractively wooded but not heavily-used. There are two main campgrounds, the Live Oak campground, which is in a pleasantly wooded valley, and the Juniper Campground, which is on a ridge close to the summit.
Hikes

---
*** Mount Diablo (14.1 mi, 3800 ft)
This climb of the mountain from base to summit takes the most scenic and challenging route, starting at the Mitchell Canyon Visitor Center and climbing up the north side of the mountain via Eagle Peak.
** The Tassajara Creek Trail (7.9 mi, 1060 ft)
The most attracative oak woodlands in the park can be found on the mountain's eastern foothills. This hike loops through the partially-wooded hills of this area, starting on the outskirts of Danville, climbing to a high ridge, then descending through a densely wooded canyon.
** Wall Point and Green Valley (7.9 mi, 1650 ft)
This loop at the base of Mount Diablo has a lot of variety, climbing to some nice views and then skirting wealthy suburban Danville.
Drive-in campgrounds

---
*** Juniper Campground ($30/night + $8, open all year)
Perched on a plateau on the side of Mount Diablo, this very popular campground features dramatic views of the San Ramon Valley.
* Live Oak Campground ($30/night + $8, open all year)
This small but densely-packed campground is set in a sheltered, pleasantly wooded glen next to the Rock City area.
---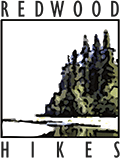 © 2015 David Baselt