★
The Ridge Trail
---
Length 5.4 mi · Climbing 980 ft
This hike starts from the Fredrickson Lane trailhead in Black Diamond Mines Regional Preserve. This trailhead is easy to reach, it's in a very scenic part of the park, and unlike the main trailhead on Somersville Road, it's free. As a result, it's very popular and the small parking area fills up quickly on weekends.
It's surprising how many people take the challenging walk up to the nearby ridge, but it's also easy to see the appeal — the views of Antioch and the pastoral Lone Tree Valley are superb. The grassy hills along the way are heavily grazed and cows are common along the trails.
If the parking lot is full and you're willing to pay $5, you can park nearby in Contra Loma Regional Park.
Hike up the gravel Stewartville Trail, which ascends gently through a shallow, starkly treeless valley. The scenery changes as the trail comes over a crest and the broad and scenic Lone Tree Valley with its surrounding oak-dotted slopes comes into view. The trail begins a gentle descent into the valley, passing a large cattle corral.
A short side trail leads to the Prospect Tunnel, a low tunnel carved into a hillside that you can walk ia few yards into before encountering a gate.
Turn right onto the Corcoran Mine Trail, an old dirt road that has narrowed almost to a single track trail. The road climbs steeply to the ridge, passing through a narrow draw. This is the least enjoyable and scenic part of the hike, but you're rewarded with some great views from the ridge.
Turn right onto the Ridge Trail, which descends with outstanding panoramic views of Antioch on the left and the rolling, oak-dotted East Bay hills on the right. Take the Stewartville Trail back to the parking area.
---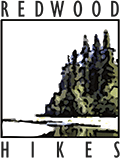 © 2015 David Baselt
Re-hiked 2019; no changes