★
The Star Mine Trail
---
Length 7.3 mi · Climbing 1560 ft
The most striking part of Black Diamond Mines are the views of the vast, remote Deer Valley from the top of the Stewartville Trail. This hike starts at the popular main parking lot and descends into the valley. The Star Mine loop adds some variety to the hike.
Start from the main parking lot and head up the paved road toward the Hazel Atlas Mine. Turn left onto the Stewartville Trail.
The trail climbs steadily up to a ridgetop. On reaching the ridge an impressive view of Deer Valley stretches out in front of you. Even more impressive, pretty much the all of the valley and the surrounding hills that's visible from here is part of the park, and the hike will take you through most of it.
Continue straight ahead on the Stewartville Trail. The number of visitors immediately drops off as you start descending.
The dirt road levels out at the bottom of the valley and continues through heavily-grazed grasslands. The valley seems somewhat barren and trashed at first, perhaps due to overgrazing and to earlier mining activity, but after the Stewartville townsite it becomes much more attractive as the valley widens into bucolic cattle-dotted fields.
There are two loop options: the Oil Canyon Loop and the Star Mine loop. Although both have some nice scenery, the Lower Oil Canyon Trail has been destroyed by excessive cattle use and isn't very enjoyable. So for this hike we'll use the shorter Star Mine Loop, which is closed off to cattle.
The Star Mine Trail climbs through a small canyon, offering some nice views of the Deer Valley. The trail connects to a road that descends through a strikingly different chaparral-covered landscape, passing Star Mine, an almost unnoticeable hole in the ground.
As an optional excursion on the way back, you can take the Carbondale Trail to the Saddle Trail for some nice views of Antioch. This side of the park feels much different from the remote Deer Valley.
---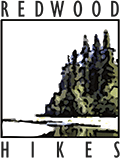 © 2015 David Baselt
Re-hiked 2019; no changes