Stewartville is a single-site trail camp at the edge of a huge, sweeping cow pasture. The vast swath of open, gently sloping grassland, which is a strikingly deep green in spring, is often dotted with cows. It kind of feels like you're a cowpoke camping on the range.
The camp is about two miles from the Somersville trailhead, but you can't actually park overnight there; you have to park in the lot next to the entrance kiosk, adding about a mile to the walk in. The camp is a two and a half mile walk from the Fredrickson Road trailhead, but overnight parking isn't allowed there.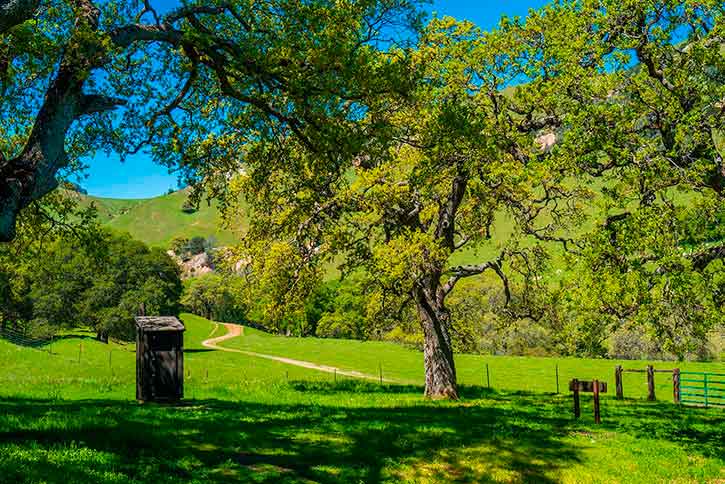 The camp accommodates groups of up to 20 people. Since it only has one site, you're guaranteed to have it to yourself. An outhouse is a few yards away from the tent area, but there's no water. Campfires unfortunately aren't allowed but camp stoves are.
The camp is in a very quiet area, with no traffic noise and no signs of suburban development anywhere nearby. However, the trail that the camp is on is fairly popular and during the day people walk or bike by every few minutes.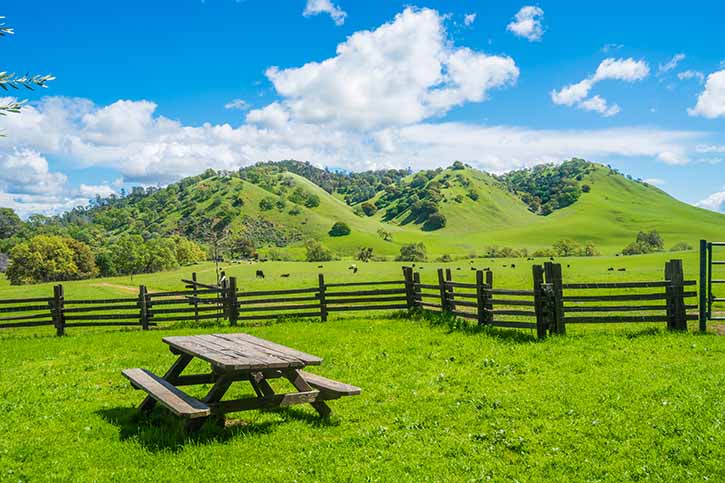 The little camp is surrounded by a fence to keep it free of cow manure. It has three picnic tables, one in the shade of a tree and two in the sun with a nice view of the pasture. There are lots of oaks in the enclosure but you aren't supposed to set up tents under them.
The camp is closed from November 1 until the first weekend in April (or whenever the roads dry out enough for the park to drive in and service the camp).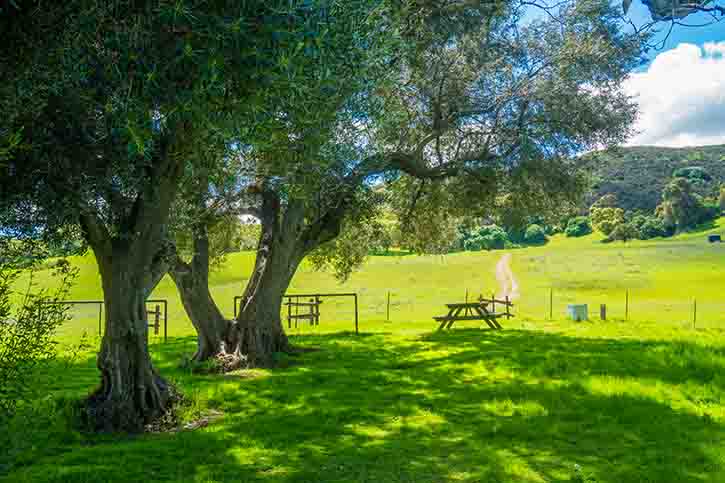 Star Mine Group Camp

---
About a half-mile from Stewartville is the Star Mine Group Camp, which accommodates groups of 11 – 35 people for $75/night. The camp is on a hillside under a copse of oak trees. The landscape of rolling hills and oak trees is less strikingly open than Stewartville but is very nice. The group camp has a more developed look, with four picnic tables on a cement pad under a wooden shelter and a leveled tent area. You're actually allowed to drive in from the Frederickson Drive trailhead and park right next to the camp, but you're only allowed one trip. There's a single pit toilet, no water, and campfires aren't allowed, only camp stoves.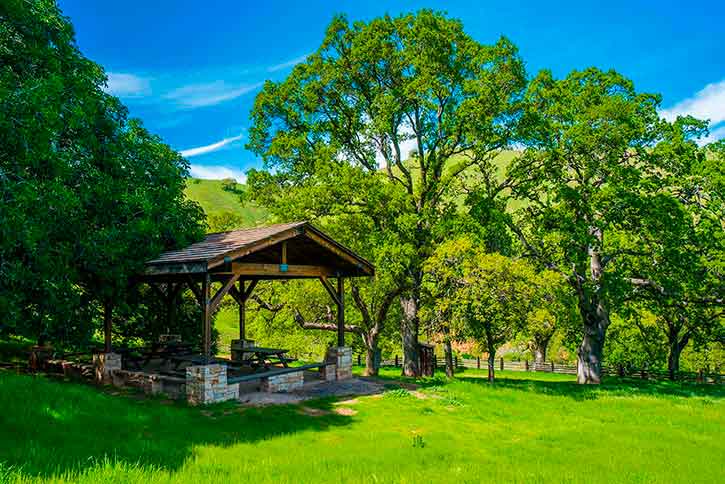 Links

---
Check availability using Reserve America. A "C" means the site is available. To actually make a reservation you have to call EBRPD at 1-888-327-2757 at least 5 days in advance. Reservations for a calendar year become available at the beginning of the year, or a few months earlier if you live in Alameda or Contra Costa County.
Here's the location of the overnight parking lot in Google Maps.