★
Sulphur Springs and Highland Ridge
---
Length 10.5 mi · Climbing 1880 ft
If you want a hike that's easy to get to but doesn't have a lot of people, this is a great option. It feels remarkably remote, with almost no visitors once you leave Finley Road/Old Finley Road, no traffic noise, and almost no signs of development on the trail. The area is generally atttractive, although it doesn't have any must-see scenic destinations. The main scenic attraction is the Highland Ridge Trail, which has some nice views of the surrounding hills and is the best trail of the Morgan Territory/east Mount Diablo area.
A densely wooded ravine and a bit of singletrack trail add some variety, but the hike is mostly on sunny, exposed dirt roads. It's definitely best in the spring, when the grass is green and before it gets too hot.
Start at the shaded turnout at the last left-hand bend in Old Finley Road. Sometimes there are a lot of cars parked here but so far I've never had problems finding parking. Walk about 0.8 mile, past a gate, to the trailhead where the dirt road begins. Finley Road is by far the busiest part of the hike, with about one group every 2-3 minutes at the busiest times.
After passing the dilapidated White House, turn onto the Sulphur Springs Trail, which is the first dirt road on your right. The trail begins to climb and meanders through an open blue oak grove. The number of people on the trail drops off dramatically at this point; at the busiest times you might see a group every hour.
Turn onto the Black Hills Trail. After ascending a little bit, the trail descends into a densely-wooded ravine. The bottom of the ravine has some pretty good-sized oak trees that may be old growth.
Turn left onto the Sulphur Springs Trail. The trail climbs through dense woodland, but it' much less attractive than the Black Hills Trail.
The Jeremiah Trail meanders through an attractive blue oak grove before beginning a climb to Highland Ridge. In winter the trail is sometimes churned into a muddy mess by cows.
The Highland Ridge Trail is the highlight of the hike, with sweeping views over the rolling hills and Mount Diablo in the background. This ridgetop trail is a little difficult to get to, but it's noticably more scenic than any of the other trails in the area. The name of the trail chages to Highland Ridge Road in Mount Diablo State Park.
Descend on the singletrack Walnut Trail and return to the trailhead on Finley Road.
---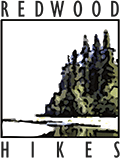 © 2020 David Baselt