★
The Valley View Trail
---
Length 4.2 mi · Climbing 940 ft
The southern entrance of Los Vaqueros has fewer and generally less scenic trails than the northern entrance. The one exception is the Valley View Trail, which starts right at the entrance kiosk and climbs to a wide-open ridgetop with some striking views over the Livermore Valley. In fact the entire hike is over open, treeless grasslands, which can be refreshing in the winter and spring, but monotonous and oppressively hot in the summer.
The adjacent Morgan Territory Regional Preserve also has a Valley View Trail, but it's not connected with the one in Los Vaqueros.
Start at the County Line Staging Area, next to the kiosk at the south entrance. Take the Black Hills Trail, which immediately starts climbing a treeless, grassy hillside. The trail is a wide, dusty dirt road with a lot of cow manure. It's fairly steep at first but eventually becomes less steep.
The huge wind turbines, added in 2012, are an ever-present backdrop to the reservoir. Their rotors appear to be moving slowly, but in fact the tips of the blades can reach speeds of 100 mph and each turbine can power 500 homes. The turbines look a little odd at first but eventually they seem like just another, somewhat unusual, part of the scenery. They're definitely a lot more visually arresting than the masses of smaller, older windmills visible from Brushy Peak.
At the top of the Black Hills Trail, turn left onto the Valley View Trail, which continues to climb to the ridgetop. There's another intersection at the ridgetop; a short, unmarked road to the right leads to the highest point of the ridge. The views are slightly better from the high point but not really that much different than the official trail.
The trail gradually descends along the ridgetop, with great views over the wide, flat Livermore Valley and the town of Livermore in the distance. The prominent road that cuts across the valley is North Livermore Avenue. Los Vaqueros Reservoir is visible on the other side of the ridge.
The best scenery of the hike ends as the trail drops off of the ridge to a saddle. Continue back to the Black Hills Trail and the parking lot.
Related websites

---
---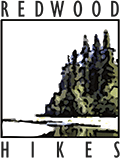 © 2015 David Baselt
Re-hiked 2021; no changes