★★★
Eagle Ridge and Vista Grande
---
Length 5.4 mi · Climbing 1150 ft
True to its name, this is a hike of big vistas and wide-open spaces. The loop runs along two ridgetops with superb views of the rolling, blue oak-sprinkled hills around the reservoir and the endless plain of the Central Valley.
There's a $6 fee to park here. As a result, the trails are remarkably quiet and little-used; except at the beginning and end of the loop, you're unlikely to see anyone else. In contrast, neighboring Round Valley offers free parking and is very popular.
Trail closures often occur in this area between January and August due to golden eagle nesting; check the Contra Costa Water District's Los Vaqueros Wildlife page before going.
Start at the John Muir Interpretive Center parking lot at the end of Walnut Boulevard. Descend back to Walnut Boulevard and take the Walnut Trail north. The trail doesn't look very promising at first, starting out as a gravel service road. The road abruptly ends. An almost-invisible road continues ahead, following a fence that separates it from Walnut Boulevard. If you come to a picnic area you took the wrong road; drop back to the fence.
The road becomes better-defined as it climbs a little rise and descends to an intersection with the Mariposa Canyon Trail. Ahead, the Eagle Ridge Trail splits off to the left, immediately starting to climb up a hill.
The views become progressively better as the trail climbs a grassy ridgetop sparsely dotted with blue oaks. Views open up of the Kellogg Creek Valley where you started, then the gently rolling hills to the north, then the immense plain of the California Delta and Central Valley. On the other side, the long, straight Mariposa Canyon with its blue oak-sprayed hillside is quite scenic as well.
The scenery culminates around the high point of the trail with some nice views back along the ridge.
There's a break in the scenery as the trail then descends to an intersection with an emergency phone. The trail then begins to climb; as it reaches another ridgetop, a superb vista of Los Vaqueros Reservoir and the broad Adobe Creek valley comes into view. The Central Valley can still be seen over Eagle Ridge.
After climbing over a knoll, the trail reaches an intersection with the Crest Trail. From here you can take the Crest Trail or continue straight on the less-used Los Vaqueros Trail. Either option is steep and quite a bit less scenic than the preceding miles of trail. The Los Vaqueros Trail has some nice views of the huge reservoir and ends with an easy descent on a paved road. The Crest Trail is less developed and more in keeping with the character of the rest of hike.
More photos

---
---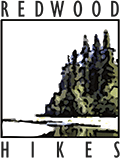 © 2018 David Baselt