The Volvon Trail is Morgan Territory's most popular trail. Given that it's 11 miles outside of town on a narrow, winding, one-way road, it can get surprisingly busy; on a really nice spring weekend the parking lot fills up and you might pass a group every five or ten minutes on the trail.
A common variation of this hike involves descending to and returning on the singletrack Coyote Trail, which runs through a densely-wooded canyon. However, I don't really like the Coyote Trail since it's not all that attractive and it's infested with poison oak; it's better to stay on the ridge.
The trailhead is reached by a twisty drive on one-lane Morgan Territory Road, which climbs into the strikingly open hills north of Livermore. The parking lot is at the high point of the road, just before it descends into a wooded ravine. The trail begins at the information display where the maps are. After just a few yards, turn right onto the little connector trail that leads to the Volvon Trail, which is a dirt road.
The road merges with a gravel road that passes through open meadows. After a third of a mile, turn left onto the first dirt road, then turn right onto the Blue Oak Trail. This trail descends through a large open meadow bordered with oaks. There are a few glimpses of the Central Valley, but the ridgetop is so wide that you can't really see much. This part of the trail is quite scenic in spring and is also very popular.
The trail descends into a very open blue oak grove. Typically for such groves, there's no understory, just widely-separated oaks growing over a grass lawn.
The Blue Oak Trail ends at an intersection with the Volvon Trail. You could cut the hike short at this point and return on the Volvon Trail, but, it's worth going at least a little further to Volvon Loop, which has the best scenery of the hike.
Hiked clockwise, the Volvon Loop begins with open cow pasture. As the trail curves around to the east side of the ridge, it enters an attractive blue oak grove with occasional glimpses of Round Valley, Los Vaqueros Reservoir, and the vast Central Valley (this area could really use a little side trail leading up the hill so that you could get an unobstructed view).
On the way back, stay to the right, on the Volvon Trail. The Volvon Trail actually has a lot more oaks than the Blue Oak Trail. The best part of the ridgetop grove is around the Hummingbird Trail, the short trail that connects the Blue Oak and Volvon Trails; the oaks are a little denser and lusher in this area.
Turn right onto the Condor Trail, an attractive single track that leaves the oak grove and continues along a grassy hillside. The trail ends at a small pond just below the parking lot.
---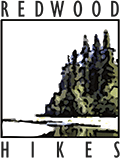 © 2015, 2019 David Baselt