★
Los Vaqueros and West Loop
---
Length 5.6 mi · Climbing 530 ft
This hike starts with a walk on the gravel road that runs along Los Vaqueros Reservoir. The road is fairly busy for Los Vaqueros; at peak times you might see a group every 10 – 15 minutes. The hike ends with the scenic and much quieter West Loop Trail (formerly the Danner Trail), which climbs into an attractive blue oak grove with some nice views of Los Vaqueros Reservoir.
From the busy parking lot at the Marina Recreation Area, take the Los Vaqueros Trail north. The wide gravel road meanders along the shore of the reservoir. It isn't especially scenic at first, but it gradually improves as it approaches the flatlands at the northern tip of Cowboy Cove. Turn around at the intersection with the Oak Savanna Trail.
On the way back, turn right at the intersection with the West Loop Trail. The scenery improves dramatically as the trail climbs steeply up the hillside and views of the reservoir open up. The trail begins a gradual descent along an attractive ridge with nice views of the blue oak-covered hills.
At the bottom of the hill, turn right onto the Los Vaqueros Trail to return to the marina.
---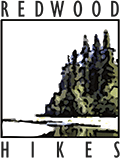 © 2021 David Baselt