★★
Colier Spring
Marin Municipal Water District Mount Tamalpais Watershed
---
Length 1.4 miles • Climbing 410 feet
Tucked into a ravine high up on the north side of Mount Tamalpais is a tiny, isolated old-growth redwood grove sustained by a small spring. Although it doesn't have any really big trees, it's a remarkable sight; at this altitude Mount Tamalpais is mostly covered with dry, brushy woodland, so the lush, open redwood grove really stands out.
From the trailhead, the Colier Springs Trail descends into a ravine through rather dry-looking woods. Make sure to turn right at the first, somewhat faint intersection. Although the trail is official, it looks unofficial: steep, rocky, and not very well-maintained, it's slow going.
The trail comes to Colier Springs (marked with a sign that says "Collier Springs" ), a small opening in the ground out of which dribbles a little water. Although the spring is not too far from the summit of Mount Tamalpais, it nonetheless seems to produce water all year round, even when it hasn't rained in months; it's hard to imagine where the water comes from.
The redwoods begin immediately below the spring and extend down along the bottom of the ravine. In winter the sound of the burbling brook fills the grove. The biggest and best redwoods are the group by the trail intersection right below the spring. Just a few yards further down the ravine the redwoods taper off in size, and eventually signs of logging appear. The trail descends at a ridiculously steep gradient for another mile or so; as it does, the redwood forest gets progressively lusher and more attractive, but it's all second growth.
There's a 5-way trail intersection at the spring; the redwoods only extend for a few yards on each of the trails.
Avoid the steep climb on the way back by taking the International Trail, which is longer but has a much more reasonable gradient than the Colier Springs trail. As the trail curves out of the ravine, the redwoods become tiny and then disappear.
---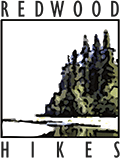 © 2016, 2022 David Baselt