The Bohemian Grove Trail
Loop hike with the Foothill Trail
---
Length 2 miles • Climbing 120 feet
The Bohemian Grove Trail is the centerpiece of Muir Woods and is what everyone comes to see. Extending along a narrow valley floor for one mile, the trail is wide and level and mostly covered with a wooden boardwalk, making it an easy stroll. Along the trail, mid-sized redwoods and Douglas Fir stand among a dense understory of tanoak and other broadleaf trees, a typical mixture for southern redwood forests. There's a little bit of fern and redwood sorrel groundcover, but overall the environment seems rather dry, which is surprising because the Mt. Tam region gets 40 to 50 inches of rain a year, twice as much rain as most other parts of the Bay Area and as much as Seattle.
The initial stretch of the Bohemian Grove Trail has a few isolated large trees, but the most scenic portion is the part farthest from the visitor center, between Bridge 3 and Bridge 4. Here the understory opens up and there's a denser collection of redwoods. The crowds also thin out a little after Bridge 3.
The long stretch of old-growth redwoods is unusually extensive for a small redwood park like Muir Woods. While the trees aren't especially big, they do have the tall, perfectly straight appearance that's unique to redwoods, so they can still be pretty impressive.
Hike description

---
Here's the trailhead location in Google Maps.
From the park entrance, the Bohemian Grove Trail enters the woods on a boardwalk, almost immediately passing by the very popular gift shop and Bridge 1. The trail passes some good-sized trees but then passes through a region with few creekside redwoods. Around Bridge 2 you enter the first real redwood grove of the hike. Just after Bridge 3 the trail divides and enters Cathedral Grove, a fine and relatively pure stand. After this point the redwoods become smaller but more numerous, although the area near the Fern Creek Trail intersection has some large trees.
Several trails branch off from the Bohemian Grove Trail, but none of them are nearly as scenic. Most of these trails soon leave Muir Woods and enter much less-attractive second-growth forest. Even within the old-growth region, the biggest redwoods are restricted to the valley floor, where they are kept well-watered by year-round Redwood Creek. The best option for additional redwood hiking is the Ben Johnson Trail, which climbs through old-growth redwood uplands.
From Bridge Four, the best option is to return the way you came. A second option, shown on the map above, is to return on the Hillside Trail. Even though the trail is only about 50 feet above the valley floor, this is already an upland environment and the trees are much smaller here. By and large the Hillside Trail is unremarkable, but there are some views of the Bohemian Grove Trail below.
---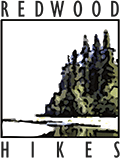 © 2006, 2012, 2016 David Baselt