★
Pantoll and Bootjack Campgrounds
via the Old Mine Trail
---
$25/night • Open all year
Mount Tamalpais' Pantoll and Bootjack campgrounds are conveniently located right at Mount Tamalpais' most popular trailhead. The Pantoll campground is the most popular as it's right next to the trailhead and the ranger station, but the Bootjack Campground is just a half-mile down the road.
The two campgrounds are very similar. They're both walk-in campgrounds, meaning that you have park in a parking lot and carry your stuff about 50–200 yards (uphill) to your campsite. The campgrounds are first-come, first-serve and don't take reservations. There are restrooms with flush toilets; both are shared with the heavy local foot traffic from the parking lots. There is drinking water but no showers.
Each campsite has a barbeque grill, a fire ring, a picnic table, and a wooden food locker.
Despite being surrounded by great scenery, the campgrounds themselves aren't really that attractive; the woods are kind of dry and dusty looking, especially in the heavily-used Pantoll campground, where the groundcover has been completely worn away by foot traffic. There aren't any scenic views from either campground. The sites are crowded together without much privacy, and there's a lot of traffic noise from the nearby Panoramic Highway, which is quite busy during the day.
The campgrounds are, however, superbly situated for hiking. Excellent hikes to Muir Woods, Stinson Beach, Steep Ravine, and the summit of Mount Tamalpais can all be started from either campground.
The camps are quite popular and on summer weekends can fill up by noon on Friday. Pay at the ranger station; cash or check only.
Parking is an issue; the small lots are always full between 10 am and 4 pm on weekends, which can be a problem if you want to go out during those hours. The ranger station doesn't have any separate parking for checking in. RV camping is allowed in the lower parking lot of Pantoll, but only between 6 pm and 9 am.
The best campsites are the ones furthest from the road, especially sites 9 and 10 in Pantoll, which are separated from the Panoramic Highway and most of the other campsites by a low hill. You can still hear the traffic noise, but it's a little quieter. The downside is that these sites are furthest from the parking lot.
Pantoll site 3 is reserved for hike and bike camping, which costs $7.00 per person. Site 2 is an ADA site.
More information

---
---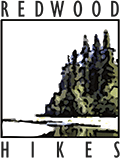 © 2019 David Baselt