Cabins

---
Perched on a blufftop with superb views of the remarkably scenic Marin coast, Steep Ravine's cluster of little cabins is one of the most extraordinary places to camp in California.
The cabins feel more homey and have a lot more windows than typical state park cabins, although they're still pretty basic. Each cabin can accommodate up to 5 people on one or two big sleeping platforms and two small platforms that are more like benches. You have to provide your own beddings and (importantly) padding for the hard wooden platforms. There's also an indoor picnic table, a wood stove, an outdoor barbeque grill, and an absolutely stunning view from the picture windows. Although there are separate bedrooms there aren't any doors separating them, and there aren't any curtains on the windows to give you privacy from neighboring cabins. There's no bathroom or kitchen and no electricity or lights of any kind; outside are two shared, well-maintained outhouses with sinks and flush toilets but no showers.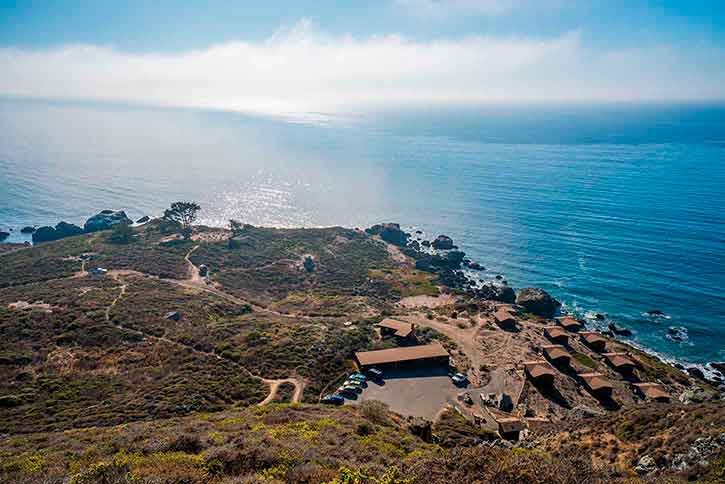 You're only allowed to bring one car into the campground and will need a combination to open the gate to the entrance road.
The cabins were built in 1938 by congressman William Kent, who also donated the land for Muir Woods. From the end of World War II until 1974 they were rented out as beach houses (initially $450 for a 1-year lease), mainly to William Kent's friends and family. The photographer Dorthea Lange rented one of the cabins from 1957 through 1964 and drove out from her home in Berkeley for stays of a few hours to a few days at a time. The state park acquired the property in 1960 with the intent of demolishing the structures, and it did in fact remove 3 of the most dilapidated cabins.
Cabins 7, 8, 9, and 10 have the most stunning, unobstructed views from their picture windows, closely followed by cabin 4. They also have the longest walk to the parking lot. The other cabins aren't exactly bad, either; their views just include some of the other cabins. Cabin 1 is an ADA cabin and should only be booked if you have a disability placard, otherwise they'll kick you out of the cabin after you arrive. Cabin 3 is not available for booking.
Just below the cabins is a private little cove. Among the rocks north of the beach there used to be a hot spring that was exposed at exceptionally low tides, although since 2017 it's apparently been covered up by shifting sand or a landslide.
Some outstanding hikes to Stinson Beach or Steep Ravine can be started from the campground.
The cabins are one of the most sought-after reservations in the entire California State Park system, only rivaled by the similar Crystal Cove Cottages in Southern California. Reservations become available 6 months before the arrival date, at 8:00 am every day, and typically sell out within a few minutes. The maximum stay length is 5 nights, so Saturday nights can sell out 6 months before the preceding Tuesday.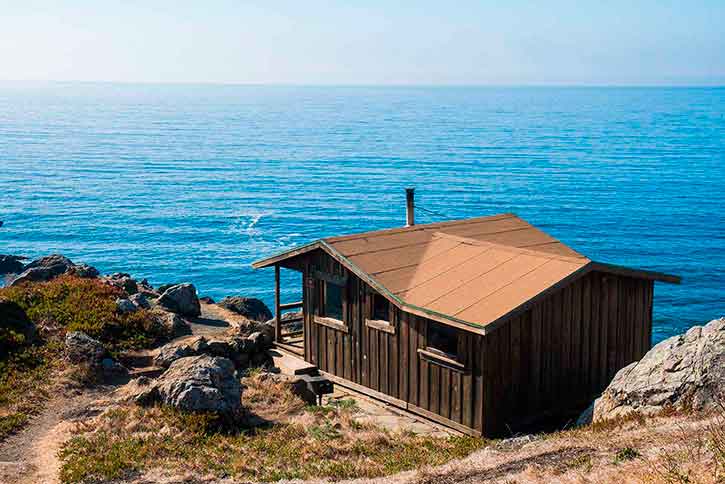 Links

---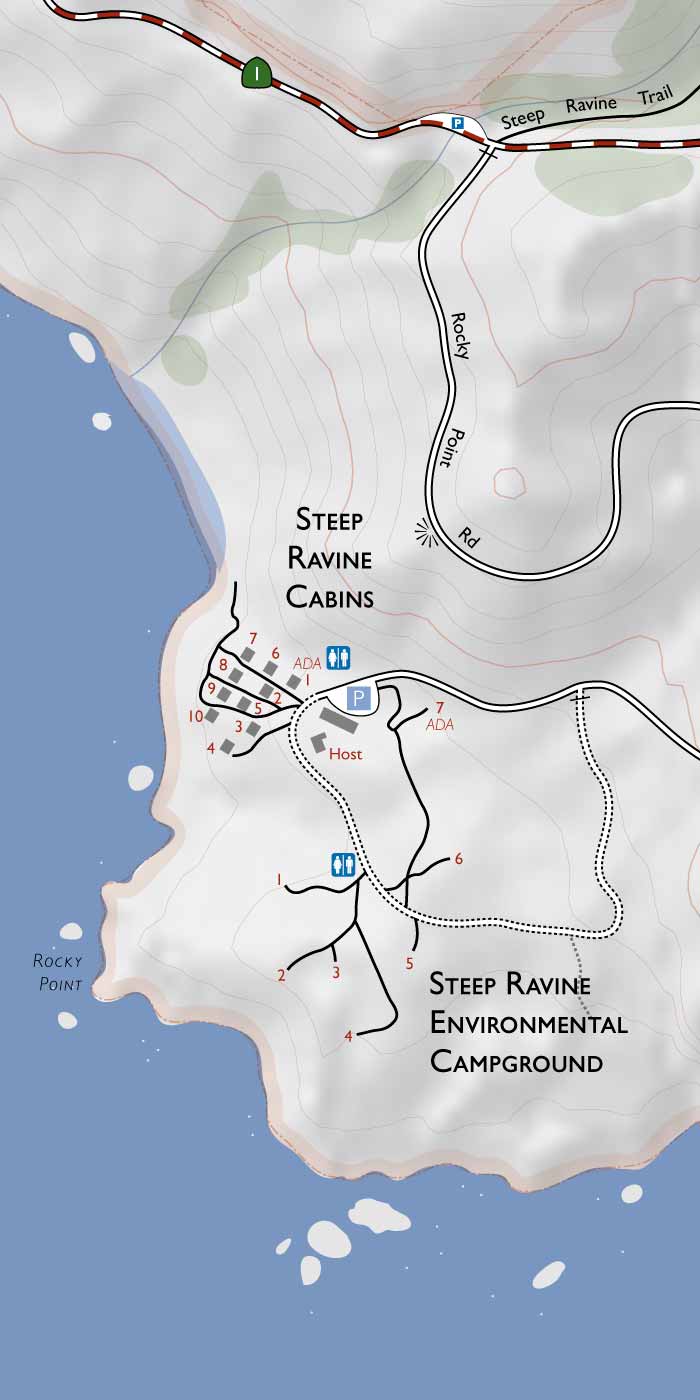 Campsites

---
Next to the cabins is a cluster of seven primitive campsites. They're walk-in sites for tent camping; you have to walk about 200 yards from your parking lot to the sites. Each site has a picnic table, food locker, and fire ring. Like the cabins, there aren't any showers.
The sites are very well separated, with lots of privacy. Highway One is far enough away that the traffic noise can't be heard over the sounds of the surf.
Site 1 is the most popular site since it faces the same way as the cabins and has the best view. But there's a case to be made that sites 4 and 5 are better, since they're isolated from the others by a low hill and also have pretty great views, with the lights of San Francisco twinkling in the distance. Sites 6 and 7 have more limited views.
Sites 2 and 3 are a little different than the other sites, as they're close to each other and don't have much of a view. On the other hand, because of the way they're set back from the bluff, they're better sheltered from the wind. There are a few scraggly trees but they don't really do anything to shelter the sites.
Since the sites are on an exposed bluff they can be cold, windy, and foggy at any time of year.
There are flush toilets with sinks, but no showers.
The campsites are a lot easier to book than the cabins, but they still sell out even in winter.