Navarro River Redwoods State Park
---
Navarro River Redwoods is an unusual second-growth redwood park that's pretty much just a narrow corridor of redwoods along Route 128. The lush, shady river valley makes a nice drive; however, there aren't any trails, just a few places where you can walk a few steps to the river.
The main body of the park is eleven miles long and between 20 and 500 yards wide. The surrounding land is still being actively logged. In the middle of this area is the Paul M. Dimmick campground, which is currently closed. It's an attractive redwood-shaded campground, but it's right next to Route 128.
The park also has a separate beach section off Highway 1 just south of the Navarro River bridge. This section has a 10-site first-come, first-served campground that's really just the parking lot for the beach. There's a historic tavern and house on the short road to the beach, but neither are currently open.
Here's the park's location in Google Maps.
---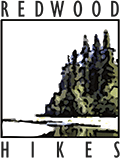 © 2017 David Baselt