Nisene Marks is a huge park with lots of cool, shady, and quiet trails. Scenery-wise, it's a little dull; the forest was clearcut a hundred years ago and has a worn-out look that's not as lush or attractive as other Bay Area redwood parks. But it's still very popular.
Most visitors come to to bike or jog the Aptos Creek Fire Road, which climbs through the park's central canyon. Neighboring Soquel Demonstration State Forest is also very popular and is mainly designed for mountain biking.
About half of Nisene Marks' forest is redwoods. Surprisingly, the redwoods are somewhat patchy in the park's large central canyon; the densest and most scenic stands are in the side canyons. Poison oak is especially common throughout the park.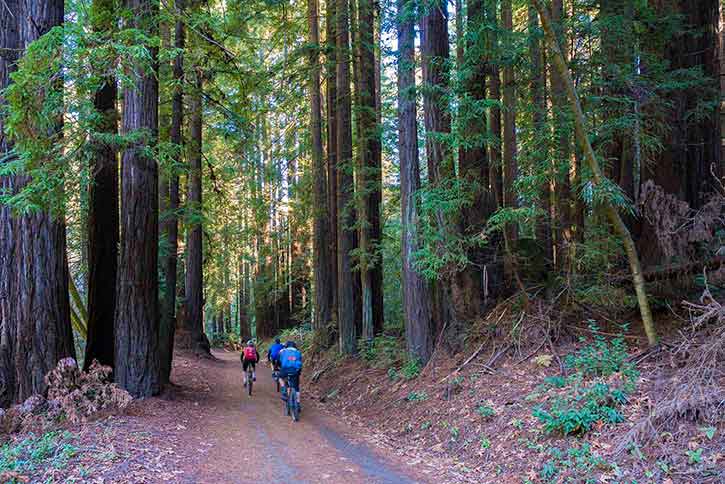 Second-growth hikes

---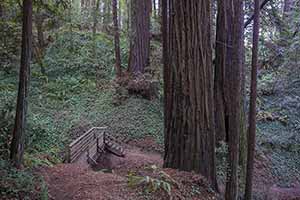 ★
Old Growth Loop
Length 1.4 mi · Climbing 350 ft
A short trail that circles around a little patch of old-growth redwoods, with five big trees, in a small ravine. Not nearly as impressive as the Bay Area's other old-growth groves.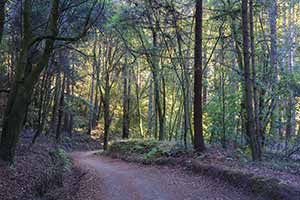 ★
Five Finger Falls
Length 11.9 mi · Climbing 1370 ft
Leads far up a steep-walled side canyon to a remote waterfall. The canyon has more variety and better redwoods than most trails in Nisene Marks. Has been closed since 2017 due to a landslide.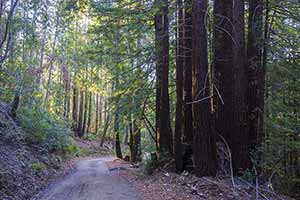 ★
Soquel Domonstration Forest
Length 9.5 mi · Climbing 1270 ft
Mainly a mountain biking destination, but determined hikers will find some nice scenery in the less-used trails below the main biking trails.
Backpacking camps

---
★
West Ridge Camp
Closed · $5/night
A quiet and remote backpacking camp on a ridgetop blanketed with heavily-logged redwood forest. The scenery is fine but not as nice as other second-growth redwood parks. Has been closed since 2017.