★
The Old Growth Loop
---
Length 1.4 miles · Climbing 350 ft
At the southern tip of Nisene Marks is a little patch of old-growth redwoods in a small ravine, part of a property known as Marcel's Forest that was added to the park in 1997. Five big trees are scattered throughout the ravine, growing among smaller redwoods. The short Old Growth Loop Trail circles around the ravine, providing an easy and interesting loop hike.
The old-growth trees are a dull brown color and tend to be somewhat gnarled, lacking the strikingly arrow-straight trunks that normally characterize old-growth redwoods. Overall the grove isn't nearly as impressive or scenic as the old-growth groves at Big Basin, Henry Cowell, or even Heritage Grove.
The trail is accessed by a seasonal bridge that is installed from May through October.
Hike description

---
Here's the trailhead location in Google Maps or Google Street View.
Start at the parking lot next to the entrance station. Three trails branch out from the north end of the lot; take the middle branch, following the signs to the old growth loop.
After turning left and then right, descend by a series of steps to Aptos Creek. In winter it may not be possible to cross the creek. The trail climbs the slope on the other side of the creek. The woods have been logged in this area. A short side trail leads a few feet to the Twisted Grove, a cluster of small, gnarled redwoods.
The old-growth redwoods begin just after the Twisted Grove, as the trail draws alongside a small ravine. The redwoods seem to be naturally confined to the ravine; on the right side of the trail is a tanoak forest. Four big trees are scattered throughout the ravine, including one that has had its top broken off but is still alive.
A second side trail, now heavily eroded and impassible, descends to the now-fallen Advocate Tree, which was by far the biggest tree in the grove and the only one of truly impressive size until it fell in January 2017. The redwood grew at the base of a steep slope next to Aptos Creek. Its location always seemed odd; it was in a somewhat disheveled-looking wood, somewhat isolated from the main group of redwoods, although a second, slightly smaller redwood grows a few yards away.
The main trail descends to a footbridge in an ivy-choked ravine, then there's a steep descent back to the river.
---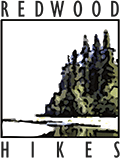 © 2014, 2017, 2022 David Baselt