★
Soquel Demonstration State Forest
---
A state-run timberland with mountain biking trails
Length 9.5 miles · Climbing 1270 ft
Soquel Demonstration State Forest is a popular mountain biking destination. Located about a 40 minute drive from both the South Bay and Santa Cruz, it's one of the only parks in either area that allows biking on singletrack trails. Hikers and equestrians are also welcome but are uncommon. E-bikes aren't supposed to be ridden here, but even so, maybe a third of all visitors are effortlessly speeding up the hills on the softly-whining bikes.
The forest is almost continuously being logged, so parts of the trail system are often closed. The forest mostly produces low-value cordwood.
The forest's main recreational feature is a network of trails on the heavily-wooded slope between Hihn's Mill Road and Nisene Marks. These trails, especially the very popular, luge-track-like Flow Trail, are best for mountain biking. For hiking, they're kind of dull; it's a long downhill walk to get to the trails and the heavily-logged woods around them aren't especially attractive.
The forest's best hiking destination are the trails west of the Sawpit Trail, where the woods become a lot more attractive. It's at least a 10-mile round-trip hike to get to this area, but since the road is wide and gently sloping it's a fast and easy 10 miles.
Hike description

---
Here's the trailhead location in Google Maps. There's a large, free parking lot, although most people seem to prefer parking in the shade along Highland Way. If the lot is closed, which it occasionally is, it might be hard to find parking.
Hihn's Mill Road descends through a heavily-logged forest, mostly of tanoak but with patchy redwoods. Groups of cyclists pass by every few minutes. The woods in this area aren't especially attractive; they have a thin look, with little foliage below the canopy and little groundcover, just brown leaf litter.
Just after the Sawpit Trail, the road levels out and the scenery improves a lot. This area, and in fact most of the forest outside of the main trail network, seems to be less heavily-logged. Almost no one makes it out this far, but it's really a lovely area; the quiet, peaceful woods open up and become more attractive, and a pleasantly burbling creek flows nearby.
The Badger Springs Picnic Area sits within a sun-dappled meadow surrounded by small creekside hardwood trees. There's a picnic bench in the meadow.
Across the road is Harrison Grove, a narrow strip of flat land with a few old-growth redwoods, most notably a ring of about a dozen trees. The redwoods, while unusually large for this area, are still pretty small, and you wouldn't notice that they were old growth unless you were looking for them. The grove does, however, lack stumps and have an especially lush, attractive appearance, in part because of its plush layer of redwood sorrel.
The suggested hike ends at the Badger Springs Picnic Area, but hikers with enough time and energy can continue on to Amaya Creek Road and Amaya Pond Road. Until recently these quiet, little-used dirt roads had the park's best scenery, with lush, attractive redwood and tanoak forests. However, this area was logged in 2014–2015, and now it doesn't look much different from the rest of the Demonstration Forest. There are very few mountain bikers here, since the road isn't especially challenging to ride. Most visitors are local hikers who can access the forest from Comstock Mill Road.
---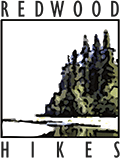 © 2014, 2015, 2022 David Baselt