Closure

---
The West Ridge Trail Camp has been closed since early 2017.
Background

---
West Ridge is a quiet, remote trail camp. Being on top of a ridge it does get some nice afternoon light while most of the park is already in gloomy darkness. The heavily-logged redwood forest that completely dominates the hills of Nisene Marks is nice but seems worn-out compared with, say, Pescadero Creek or Butano State Park.
The normal route to the camp is a 6 mile (each way) hike from the main park entrance.
The camp can also be reached by a three-mile climb up Hinkley Basin Fire Road from Olive Springs Quarry. As a bonus you don't have to pay for parking; there are two or three spots where it's possible to park off the pavement, and there aren't any "no parking" signs. The Olive Springs entrance looks like a private driveway, and it fact it has a "no trespassing" sign on it, but it's OK to use it to get to the park.
The camp is little-used and it's usually not a problem getting a site. It's supposed to have six sites, but I could only find four, and only three of those were really usable; site 1 is just a spot without any vegetation between the campground access trail and the dirt road.
Site 2 is a little dark, since it's in the middle of a cluster of redwoods and big stumps. Sites 3 and 4 are more open.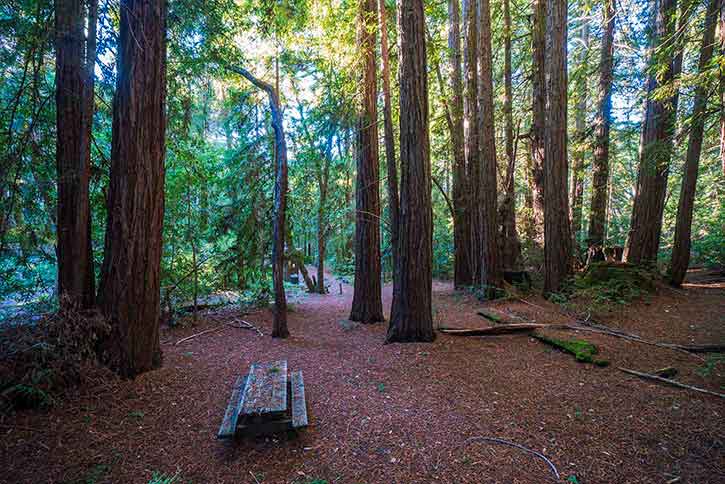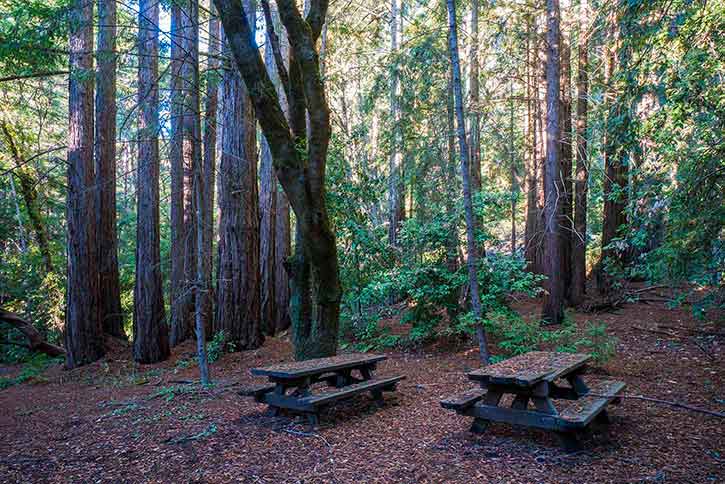 There's no water near the camp. Oddly, given that the camp is in a relativly dry location, there are a lot of mosquitoes around.
Sites can't be reserved; it's first-come, first-served when you pay at the park entrance.