★
Legion Flat
Memorial County Park
---
Legion Flat is a small alluvial flat on the banks of Pescadero Creek with a cluster of about 10 or 20 large redwoods and few signs of logging. It's on the south side of the Tan Oak Flat loop road and is clearly marked with a sign.
If it were in a more natural state, Legion Flat would be one of the Bay Area's most impressive groves outside of Big Basin. However, although the grove gets very few visitors, it's rather heavily developed: picnic tables are scattered throughout, several faint roads and trails wind through it, and the groundcover has all been worn away. Wooden railing was added during the 2020 park renovations to keep people out of some areas.
The adjacent Creek Flat Picnic Area is similar, but has smaller redwoods.
There isn't a clearly-defined hiking route through the flat. A short trail, the Nature Trail, loops through the flat but is somewhat hard to follow and misses the best redwoods; it's better to skip the trail and just wander around randomly for a few minutes.
---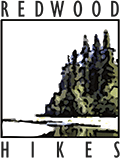 © 2021 David Baselt