★★
The CREA Trail
A little-used dead-end spur trail
---
Length 6.4 mi · Climbing 1400 ft
Background

---
The CREA (California Real Estate Association) Trail might not be all that impressive, but if you want to go on a hike in a forgotten part of Prairie Creek that doesn't get a lot of people, this might be the place. In fact, it's the least-used trail in Prairie Creek.
The trail originally connected the midpoint of Drury Parkway with the midpoint of a ridgetop trail (actually an old logging road) that ran from what's now the Ah Pah Trail in the north to Cal Barrel Road in the south. Today no trace remains of that ridgetop trail, and as a result the CREA trail has become a rarely-visited dead end. I've only ever seen one other person on it, and that was a park ranger patrolling the trail.
The CREA Trail runs entirely through redwood uplands that are, at least by Prairie Creek standards, kind of mundane. There are a few good-sized redwoods, and dense huckleberry shrubs clog the views. The most impressive part of this hike is the 1.3-mile stretch of the Rhododendron Trail that leads to the CREA Trail.
Start at the Rhododendron North trailhead on Drury Parkway, 3.5 miles north of the Prairie Creek visitor center. There's free parking in a large pullout.
Take the Rhododendron Trail, which climbs through an impressively scenic and lush canyon filled with large old-growth redwoods. Although it gets more visitors than the CREA Trail, it's still one of the least-used trails in Prairie Creek. The trail crosses over a ridge and then descends into a second canyon, where the CREA Trail begins.
The narrow trail switchbacks somewhat steeply into an upland forest of mostly small redwoods. The trail is lined with dense huckleberry shrubs, so you can't see a lot. It levels out at a quiet, attractive hilltop redwood grove. The woods open up and become a little more scenic, and freeway noise becomes audible, as the trail descends to Highway 101.
As the trail descends, fallen signs point the way to two trails to memorial groves. Although the official park map shows the two spur trails, in fact they've completely disappeared. Similar memorial grove spurs used to be found throughout Prairie Creek, and almost all of them are now overgrown to the point of being unusable or completely invisible.
Wierdly, there's a nice new (built in 2008) "bridge to nowhere" just before the end of the CREA Trail, and a clear unofficial trail continues from there all the way to Highway 101, although the trail can't actually be accessed from Highway 101 because there's no place to park.
Links

---
Here are some interesting photos of ghost pipes, parasitic plants found on the CREA Trail, from Valerie Norton.
---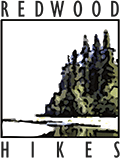 © 2021 David Baselt