Newton B. Drury Scenic Parkway slices through the middle of Prairie Creek's remarkable stand of old-growth redwoods. The wide, mostly straight parkway is about 9 miles long, of which the middle 7 miles is a continuous stretch of old-growth redwoods.
Surprisingly few redwoods can be seen from the parkway because of how dense the foliage is. The parkway is wide enough that it creates an opening in the canopy; probably as a result of the increased sunlight, the parkway is lined with green walls of foliage. However, pullouts and trailheads along the parkway offer lots of opportunities to stop and step into the old-growth forest. All the trails that start from the parkway, except maybe the Little Creek Trail, are very impressive.
Details

---
The parkway is closed to cars for the popular "hike and bike day" on the first Saturday of each month from October to May. Usually the parkway is closed from 5 pm on Friday and re-opened on Sunday morning.
The parkway is also closed whenever the temperature is below freezing, when windy or stormy weather is forecast, or when debris falls on the parkway.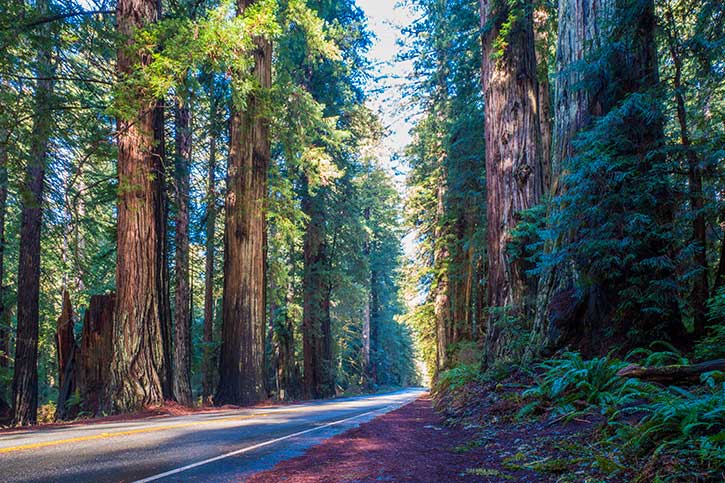 History

---
A road was already planned for this location when the state began acquiring land for the park in 1923. An unpaved single-lane wagon road was built around 1924, and in 1928 it was widened and straightened to became Highway 101, the Redwood Highway. By the time the park was officially established in 1932, the road already looked more or less like it does today.
In 1964 plans were made to widen the road to a four-lane freeway. Fortunately, when Redwood National Park was expanded in 1978, some extra land was acquired outside Prairie Creek for a bypass. The bypass finally opened in 1992 and the old Redwood Highway became Newton B. Drury Scenic Parkway.