Built in the 1930s when the park was first opened, Elk Prairie has a pleasant, woodsy small-campground feel and central location that you don't get in newer campgrounds.
The campground itself doesn't have any old-growth redwoods; most sites are in the shade of leafy hardwood trees just outside the old-growth forest. But it's just a few minutes' walk from Prairie Creek's visitor center and the main trailhead with its incomparable selection of old-growth redwood trails. No other campground has such a large number of world-class redwood hikes within walking distance.
The campground is well away from Highway 101, so there's very little traffic noise, just the occasional whoosh of a car driving by on Drury Parkway. The separation between sites is about average for a state park campground, but most sites are pretty well screened by vegetation.
The best campsites are the ones right on Prairie Creek; a few even have views of the rushing creek and an old-growth spruce grove a few yards away, but vegetation screens the views from most other sites.
Most of the sites are wooded, but sites 5–6 and 69–76 are out in the open sunshine next to Elk Prairie. These sites are in a little depression so you can't actually see Elk Prairie, just a 10-foot-tall embankment.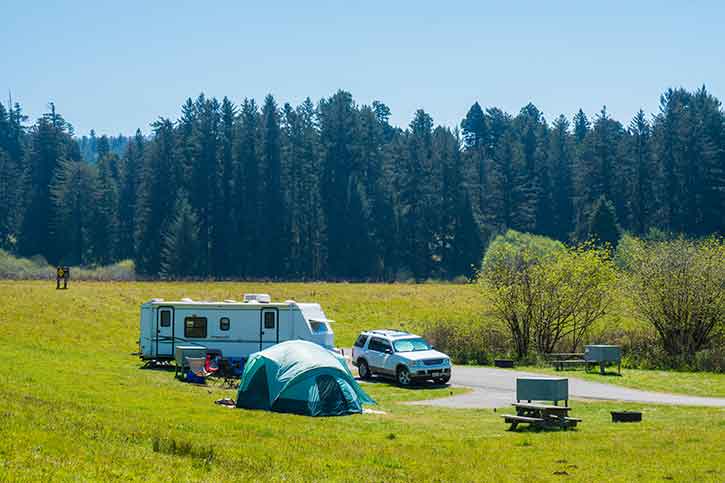 Best campsites

---
First choice: Site 56 is right next to Prairie Creek; you can walk a few steps down to the creek. It's also tucked away behind some shrubs, giving it more privacy than most other sites. Site 53 is similar but doesn't have as much privacy.
Second choice: Site 24 is one of the only sites where you can camp among old-growth redwoods. It's also huge. Site 22 is similar but is an ADA site, meaning that it's only available on a first-come, first-served basis unless you have an ADA placard or license plate.
Third choice: most of the campsites on the outside of the loop road are pretty nice.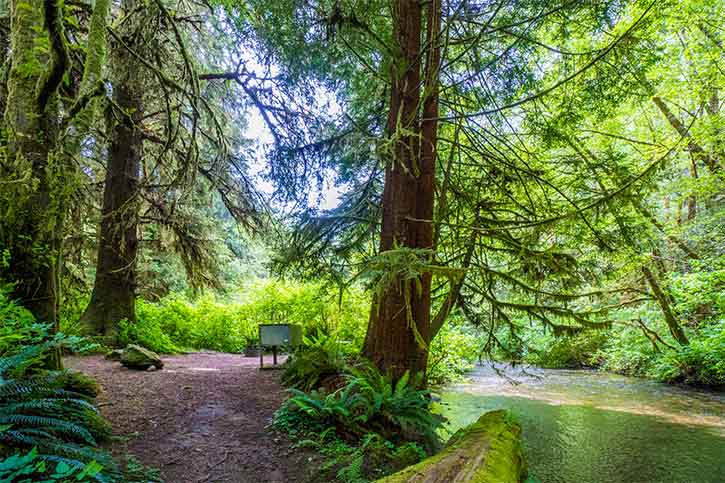 Meadow Cabin Colony

---
Sites 1–4 have wooden cabins that cost $80/night in winter and $100 in summer. The cabins are new and sparkling clean, but very basic. Each cabin has four bunk bed platforms and nothing else; you need to bring your own bedding, and there isn't even any place to sit other than the beds. There's no bathroom, so you have to use the campground's bathroom/shower building. There's no kitchen and you're not allowed to use stoves inside, but you do get an outdoor fire pit just like the regular campsites. The cabins do, however, have heat and electrical outlets. All the cabins are wheelchair-accessible.
The National Park Service has a page on the cabins with a picture of a cabin interior.
The state park cabins shouldn't be confused with the much larger, privately-owned Elk Meadow cabins a few miles down the road.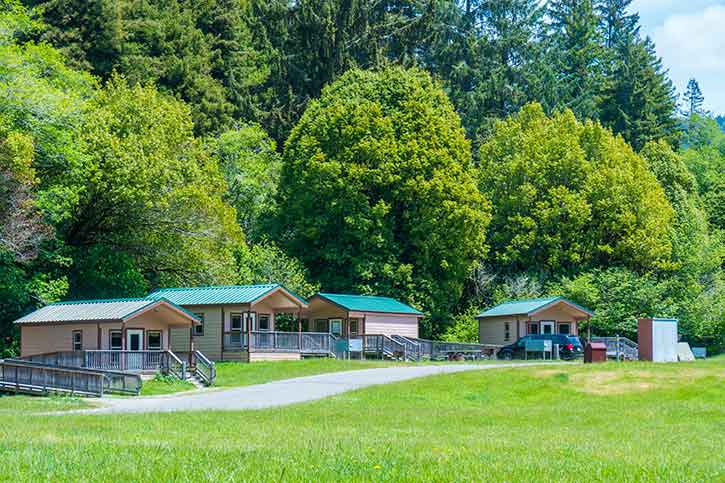 Hike/bike area

---
At the south end of the campground is a hike/bike area, part of a network of campsites for long-distance cyclists or hikers who may not be able to predict where they'll be on a given day. The area has 7 picnic benches and is supposed to accommodate multiple groups, up to a total of 8 people.
The area is a few steps away from the main campground so it's a little quieter and doesn't have cars driving by. The picnic benches are scattered around an open grassy area under some small trees. Most are right on the little-used Davison Trail; a few are set back in the woods.
Hike/bike camping is $5 per person (payable at the entrance kiosk) and is available on a first-come, first serve basis. Oddly, although the hike/bike area is just 10 yards from the regular campsites, it's considered a backcountry campsite so fires aren't allowed. There's a single food locker for the whole area.
Campground details

---
There's a maximum of 8 people per site. RVs up to 27 feet and trailers up to 24 feet are allowed, although not all of the sites have a big enough pullout to park a motorhome. Like most state park campgrounds, there aren't any hookups.
The campground is open all year, but the northern loop (sites 8 – 48) is closed in winter. There's no cell phone service in the campground or, for that matter, anywhere in the park.
Sites 7 and 17 are camp host sites, and there is no site 37.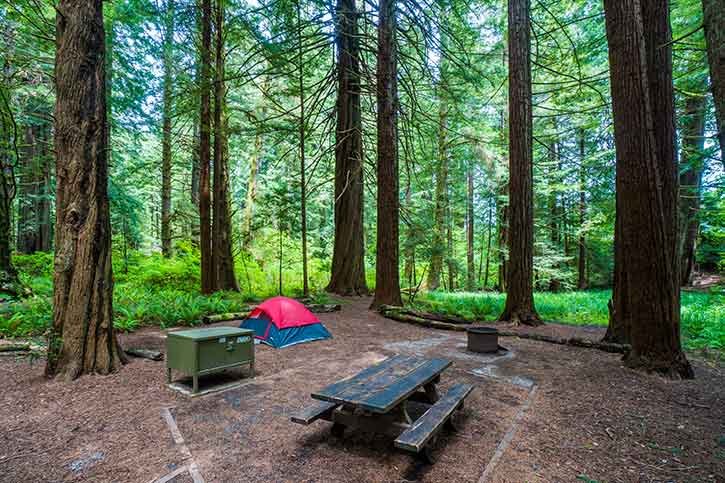 More information

---