★★
The High Bluff Overlook
off Coastal Drive
---
Length 0.4 mi · Climbing 60 ft
The High Bluff Overlook is a picnic area and viewpoint on the site of an old rock quarry. It's reached by a short access road off of Coastal Drive. The access road is somewhat steep, but it's a lot easier to drive since it was paved sometime around 2020.
The name is a little misleading since the Klamath River Overlook, three miles further north on Highway 101, is on a much higher bluff and offers a more sweeping view of the ocean. But the High Bluff overlook has more dramatic views of the rocky coast.
The area is fairly popular in summer, when people come here to look for whales or watch the sunset; in winter it's usually empty.
The road ends at a parking lot with few picnic benches under some spruce trees and a vault toilet. To the left, a 100-yard-long paved trail leads a to a very nice view of Split Rock and the coast to the south. To the right, a rougher 300-yard-long trail descends to the quarry itself, which is just a flat, unattractive clearing, although it does have a pretty good view of the coast to the north. Neither trail offers any way to climb down to the rocky shore.
---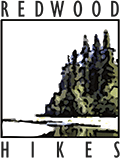 © 2022 David Baselt