The Lady Bird Johnson Grove
Nature Trail
---
Length 1.4 mi · Climbing 100 ft
Background

---
This is one of the most popular trails in Redwood National Park. Park rangers often recommend it to visitors since it's short, level, and close to Kuchel Visitor Center.
Unusually for a major redwood attraction, the trail is in a redwood upland environment at 1200 feet above sea level. Such ridgetop or hillside groves are usually less spectacular than valley floor groves, with smaller trees and more shrubs that block views of the trees. However, the trail was built for Redwood National Park's dedication ceremony, and I suppose the uplands provided a brighter, more cheerful environment for the ceremony.
The grove is free of traffic noise. Because of its elevation, it's often in the clouds and gets a lot more fog than lowland groves.
If you haven't visited Redwood National Park before, I'd recommend visiting a lowland trail like the nearby Prairie Creek Trail (next to the Prairie Creek Visitor Center) first. Nonetheless, the Lady Bird Johnson Grove makes a fine walk, and it's interesting to see the difference between upland and lowland environments.
Directions
Here's the trailhead location in Google Maps.
To reach the trail from Kuchel Visitor Center, drive north on Highway 101. Just past Orick, look for a large sign marking the Lady Bird Johnson Grove / Bald Hills Road turnoff. Turn right onto Bald Hills Road. The narrow road passes the site of a timber mill and then begins a steep ascent that seems to last a really long time. After a sharp right-hand turn, the road passes under a large footbridge. Immediately after you'll see a parking lot to your right. This is the Lady Bird Johnson trailhead.
Hike description

---
From the parking lot, cross the footbridge over Bald Hills Road. The trail climbs gently and then begins a slight descent, following an old roadbed through a corridor of huckleberry shrubs and mounds of leafy salal. There are a few isolated large trees, but overall this first section of the trail is not very interesting.
The scenery improves when the trail reaches the park dedication site, a small opening in the understory with a plaque and some benches. The trail then descends slightly to the intersection with the Berry Glen Trail, which is the low point of the hike.
The trail returns on the east side of the ridge, which is a lot more scenic than the ridgetop: the understory is more open and there's a nice collection of old redwoods with some real monster trees. There's a lush groundcover of ferns, and the trail's position high on a hillside affords some nice views of the forest. Rhododendrons are common and bloom in early June. The best part of the trail is a cluster of big redwoods just after the Berry Glen Trail.
The trail rejoins the ridgetop roadbed. Turn left to return to the parking lot.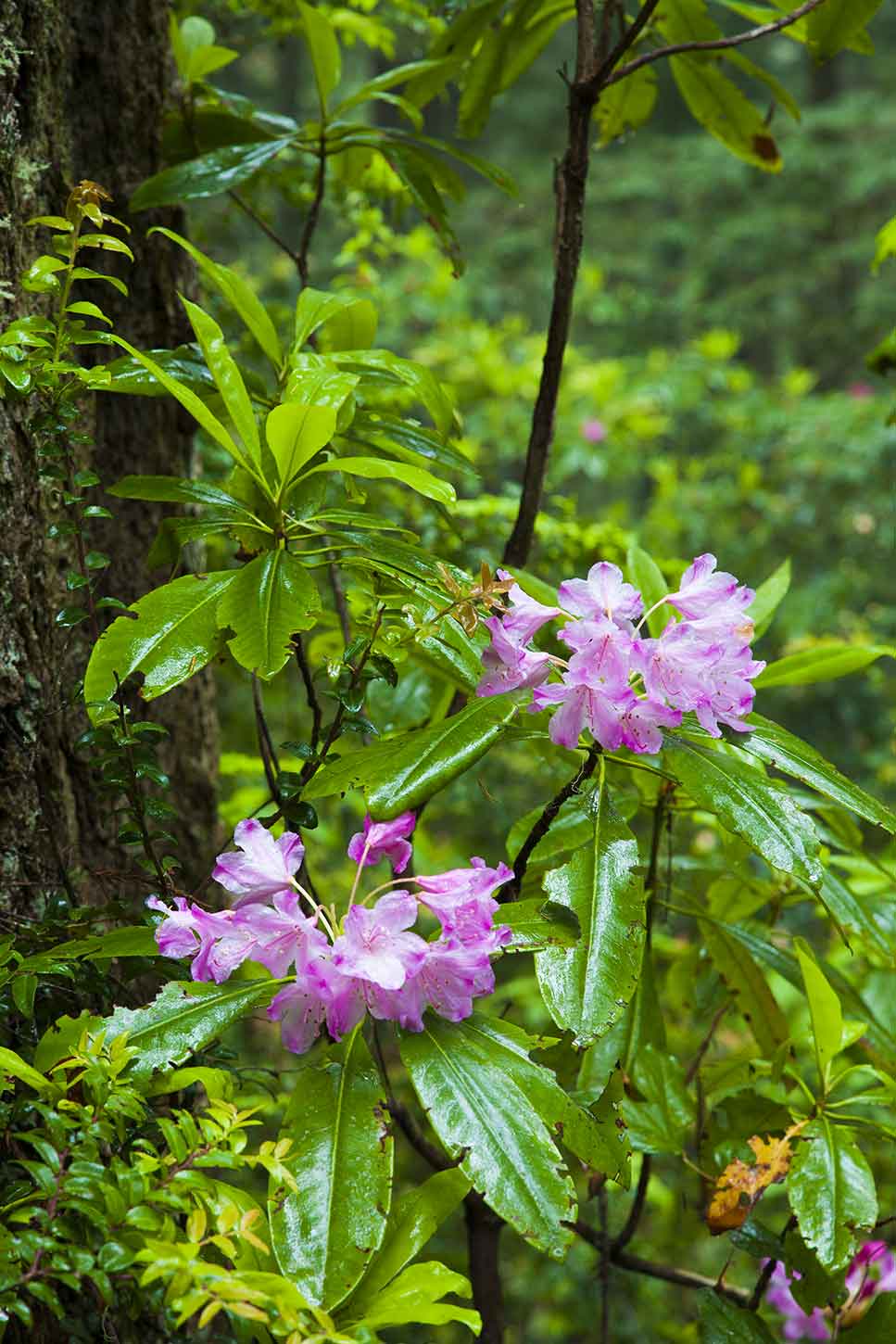 ---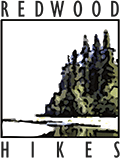 © 2007, 2014 David Baselt
Re-hiked 2017; no changes