Redwood Creek the most peaceful, secluded place to camp in Redwood National and State Parks. You can camp anywhere you want — just pick any spot on the miles of wide gravel banks, as long as it's not near the Tall Trees Grove, and enjoy the burbling of the creek and the views of tall old-growth redwoods carpeting the surrounding hills.
You can't actually camp inside a redwood grove; the best way to see old-growth redwoods is to hike to the Tall Trees Grove.
The banks are kind of rocky and lumpy, but there are patches of sand (sometimes marked by fire rings that other campers have made) that make good campsites. Sandy areas are often found at the edge of the woods in the shade of overhanging trees; these areas can be ideal if they aren't too damp.
The drawback of camping here is that there aren't any facilities; there are no bear boxes to store your food in (you're supposed to bring your own bear-proof container or suspend food and trash from a tree), no toilets, and no treated water.
Redwood Creek Trailhead

---
The Redwood Creek Trailhead is the easiest access point to drive to, and from there it's a nice, level, mile-and-a-half walk on the Redwood Creek Trail to the closest camping. Unfortunately there have been a lot of break-ins of cars parked overnight at this trailhead.
The closest camping to the trailhead is just past the seasonal bridge across Redwood Creek. Sometimes there are two seasonal bridges within about 100 yards of each other; in that case you're supposed to camp upstream of the second, smaller bridge, which actually crosses McArthur Creek. This is a popular camping area since it's so easy to get to.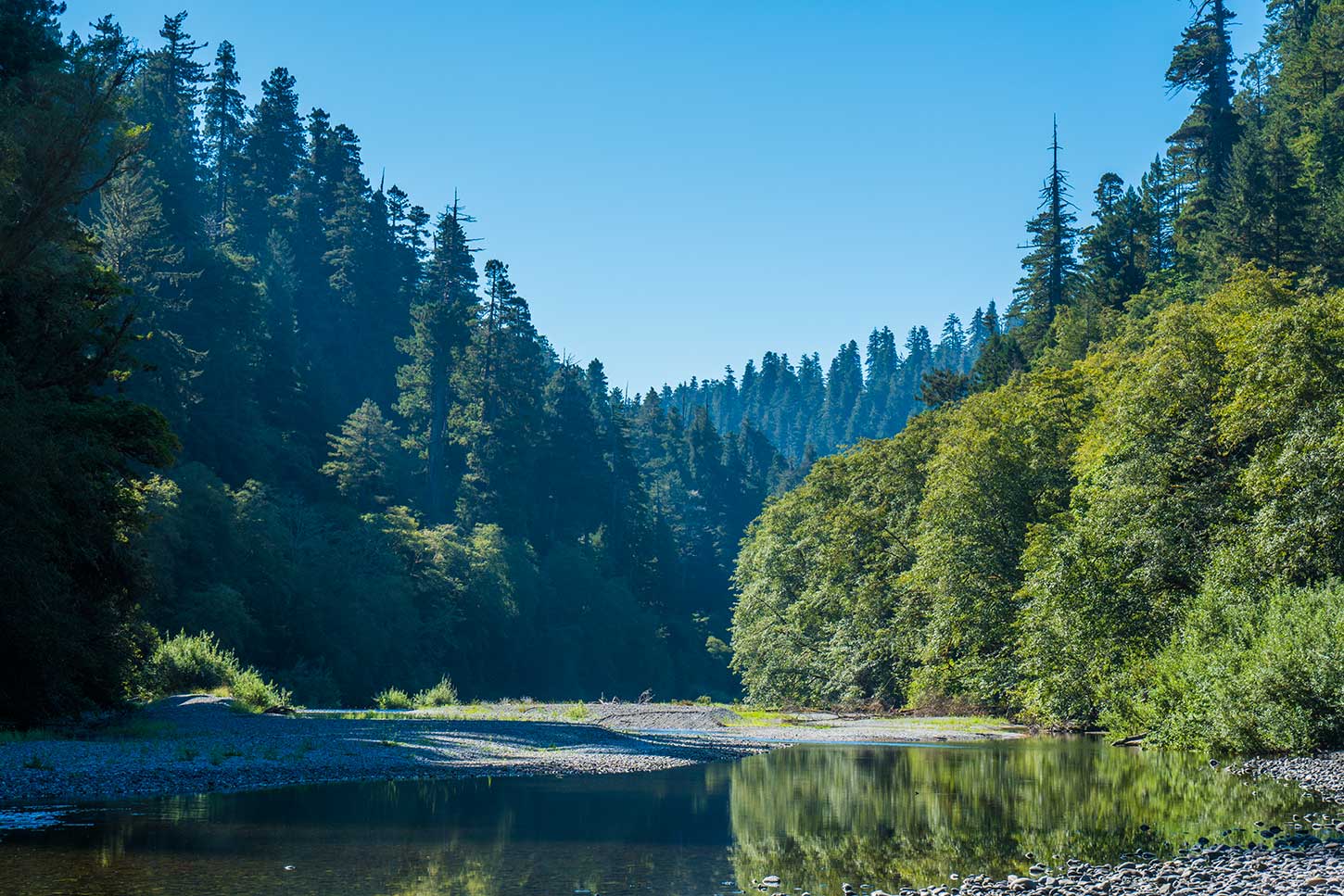 A mile further up the Redwood Creek Trail, south of Elam Camp, there are a few places where you can cross from the Redwood Creek Trail to the creek banks. The most popular is the first one, about 75 yards past the side trail to Elam Camp, on the south side of a footbridge. A short but steep and sandy unofficial trail leads down to a little beach where Elam Creek empties into Redwood Creek. In the shade of some big trees overhanging the gravel bank, right next to the burbling creek, are a few wide sandy areas where you can pitch a tent. The site is a 3-minute walk from the outhouse and picnic tables at Elam Camp. A sign says that the camp is for equestrians only, but officially there isn't any such restriction.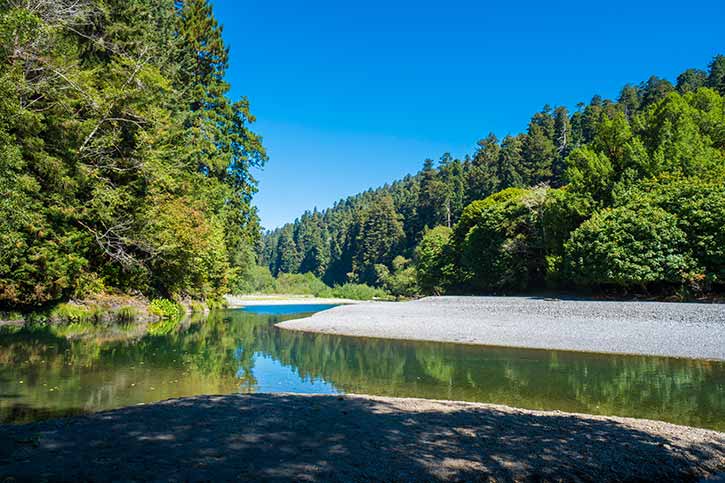 The last easily-reached site in this area is 1.3 miles south of Elam Camp. Take the Redwood Creek Trail to the second footbridge after the camp. A few yards past the bridge, an obscure unofficial path, heavily overgrown with ferns, descends to a shady little cove where another tributary empties into Redwood Creek. This site is in a bend in the river with some splendid views of redwoods on the nearby banks, and is even more secluded and scenic than Elam Creek. It's about at the halfway point of the Redwood Creek Trail, 4 miles from the Redwood Creek Trailhead and 3.5 miles from the Tall Trees Grove.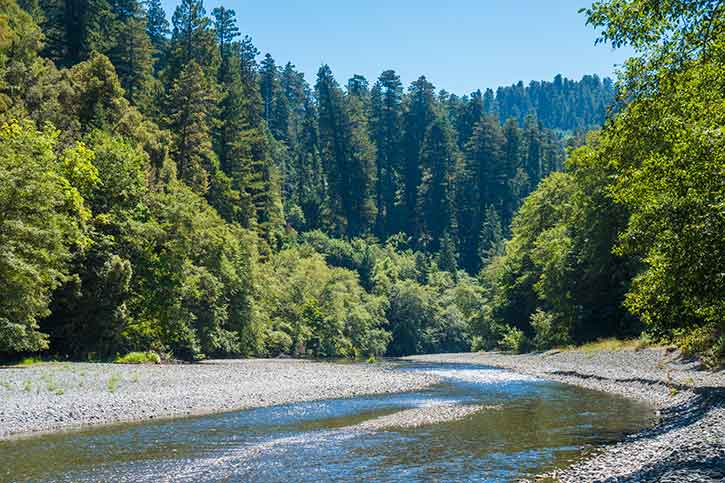 After this point the Redwood Creek Trail starts to pull away from the river and climb high up onto the hillside, making it impractical to cross over to the creek. You can, of course, walk along the creek instead, but it's hard to walk more than a mile or two on the lumpy gravel banks.
Tall Trees Trailhead

---
The Tall Trees Grove trailhead is about a one-hour drive from Kuchel Visitor Center. There's a locked gate with a secret combination followed by a six-mile drive down an old gravel logging road. From the trailhead it's a one-mile downhill hike on the Tall Trees Trail to the closest camping areas.
The most popular camping location is just north of the Tall Trees Grove. This is a lovely area with a long, straight stretch of river that's especially scenic. The banks are nice and wide, easy to walk on, and have lots of good places for campsites. There are even a few old-growth redwoods right next to the river. You can't cut across to the Redwood Creek Trail in this area, since the trail is high up on a hillside.
South of the Tall Trees Grove, the creek valley gets narrower, so this area feels more closed in and isn't as scenic. The banks tend to be smaller and it's harder to find good campsites. About a half-mile south of the grove there may be a nice sandy bank that makes a good campsite, although the banks change from year to year.
Further south, past the Emerald Ridge Trail, the creek becomes a continuous series of deep pools, often with no banks at all, requiring a lot of difficult wading through 12–18 inch deep water. The creek valley is also narrower and less scenic. However, there are usually fewer people in this area. There are still occasional small gravel banks for about two miles, after which the creek turns into a narrow, boulder-strewn channel for another two miles. Camping is only allowed on the gravel banks, so the boulders effectively mark the end of the camping area.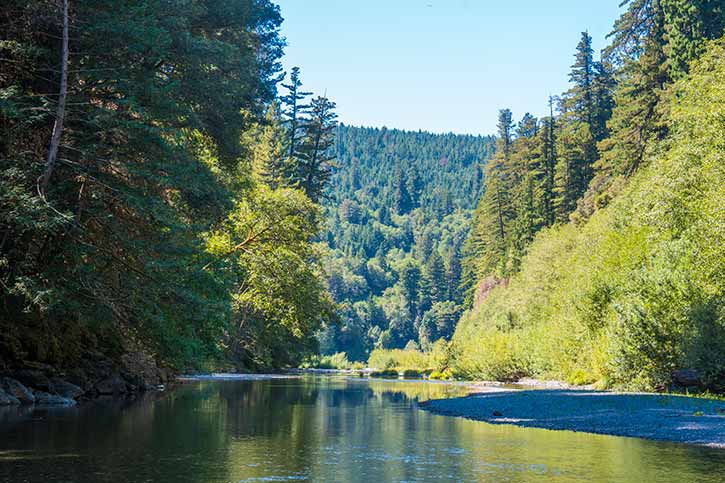 Details

---
Water from Redwood Creek can't be drunk or used for cooking, since it may contain blue-green algae (cyanobacteria) toxins that aren't removed by filtering, UV, chlorine, or boiling. Blue-green algae grow in warm water, and Redwood Creek is really warm because it's so wide, shallow, and exposed to the sun. The park recommends bringing your own water or treating water from tributary creeks instead. Places where tributaries join the main creek usually make good campsites, anyway, since there's often a nice sandy area where you can pitch a tent.
Unless there are fire restrictions, it's OK to collect wood from the creek banks and have a campfire.
To camp on Redwood Creek, apply online for a free backcountry camping permit between 2 and 28 days before your visit. Camping is allowed for up to five nights. A total of 50 people are allowed to camp on the creek each night, but it's unusual to get that many except during holiday weekends. Groups of more than 8 people aren't supposed to camp together.
It's not always possible to reach the camping areas from the most popular trailheads (Redwood Creek and Tall Trees) because Redwood Creek can be too high to cross. Seasonal footbridges across the creek are usually installed sometime in June and removed in September; at other times it may be possible to wade across. Either way, it's almost always possible to cross the creek in July, August, and September, while June and October are a little chancy. When the creek is too high to cross it may still be possible to camp by hiking 6.4 miles from Orick to the Elam Camp area. But it's possible for the creek to get so high that the gravel banks become completely flooded, leaving nowhere to camp.
Links

---